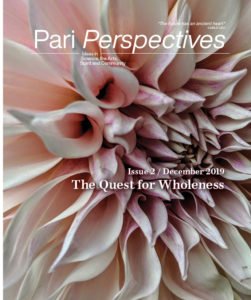 Welcome to the second issue, December 2019, of Pari Perspectives: Ideas in Science, the Arts, Spirit and Community.
The theme of this issue is 'The Quest for Wholeness' with heavy emphasis on the work of David Bohm. It opens with an essay by Basil Hiley, David Bohm's long term colleague, entitled 'Thirty Years with David Bohm' and goes on to explore Bohm's ideas on Wholeness in physics, architecture, art, medicine, economics, Goethean science, theology, etc. with experts in these fields.
The journal is available to everyone who has become a Friend of the Pari Center: www.paricenter.com/membership
Below you can read a free article from this issue, to read more subscribe and support this initiative.