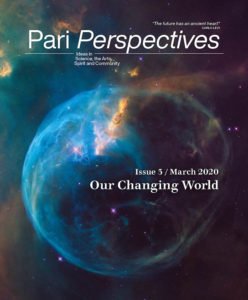 Welcome to the third issue, March 2020, of Pari Perspectives: Ideas in Science, the Arts, Spirit and Community.
In this issue we explore 'Our Changing World,' and as bleak, dangerous and disintegrating as we may experience it so many of our writers have expressed hope in the way Václav Havel spoke of hope. Hope as the transcendent virtue. Hope as the opposite of despair. Hope is everything to do with the human spirit.
The journal is available to everyone who has become a Friend of the Pari Center: www.paricenter.com/membership
Below you can read a free article from this issue, to read more subscribe and support this initiative.