I am writing this the day after Brexit became official; the day after the chickens finally came home to roost after the referendum of 2016 in which the people of Britain, or parts of it, voted to leave the European Union. As President Macron of France has pointed out, the referendum was characterized by misunderstanding, misinformation, and downright lies and the result was statistically insignificant but we are, apparently, honour-bound to abide by it. 
Those in favour of Brexit, it seems, want either to return to the primary school version of Britain's glorious past from the 16th to the earliest 20th century when we 'ruled the waves' and showed Johnny Foreigner a thing or two; and/or they envisage, in modern, neoliberal style, a future of ultra-competitive, unfettered, high-tech commerce, in which the rich people of Britain will grow ever richer—with the wisely unspoken implication that one day the rest of us will be rich too. All the work will be done by robots, and human beings will while away their days by filling in spreadsheets and selling things to each other, in an ever-rising orgy of prosperity. 
All of which is the precise opposite of what the world really needs. Brexit, plus the antics of Donald Trump, Vladimir Putin and others in positions of great power are putting back the hope of real progress by decades—although of course, as everyone who lives in the real world is fully aware, the world as a whole is in deep trouble on every front and we don't have decades to play with. 
For what we do need right now is a total re-think: a metamorphosis; re-birth; indeed nothing less than a Renaissance, even more deep-rooted and far-reaching than the so-called 'Italian' Renaissance of the 15th century et seq, which brought the European Middle Ages to a close (up to a point, and for better or worse). Everything needs to be re-thought from first principles—although, mercifully, not everything needs to be re-structured. We not need to begin again with a clean slate. We certainly need to be radical—to get down to the roots—but not gratuitously so. There is much that is good to build on.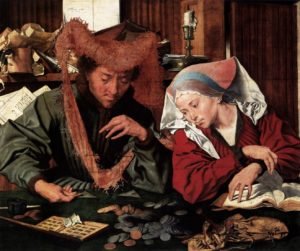 The Italian Renaissance of centuries past was led by bankers, intellectuals, and artists. We need intellectuals and artists of course, and we also need bankers—provided the bankers are on our side and are not trying simply to increase their own and their shareholders' wealth. But it is clear from the current mess—social, ecological, political, economic, moral, religious—that we cannot expect the present powers-that-be to make the changes that are now needed. For the powers-that-be are a coalition of big governments, in turn dominated by leaders who are hell-bent above all on power; plus transnational corporates and financiers who seek primarily to magnify material wealth; all abetted by compliant intellectuals who rely on their leaders for their livelihoods. This elite seems well satisfied with the status quo, or at least prefers to think that whatever is going wrong is not their fault, and they don't want to change. 
Truly, then, if we want the next Renaissance to happen, then we, people-at-large, Ordinary Joes and Jos, need to make it happen. I start with the premise that human beings are a good thing, highly ingenious and creative and far more disposed to do good than harm—so an Ordinary Jo(e) is a good thing to be. Indeed our main task is to create conditions in which what Abraham Lincoln called 'the better angels of our nature' can safely raise their heads above the parapet.