When I think myself back to Pari, I see again my first morning's view, from a house which stands almost directly across from the Palazzo, at the top of the village, a seemingly impossible twenty years ago. I think it was autumn. I had arrived in darkness the evening before, and opened my shutters to the sight of olive trees far below my window, their silvery leaves flickering; to sun-parched, gold-green farmland on the plain below; to the tidy village cemetery nestled close to the foot of the slope.
Someone's laundry fluttered from a line. A lizard scampered along a wall. I imagined tusky wild boar in the distant patches of shadowed woodland while Pari's large church bell rang the hour. The bell swayed in my mind like a hypnotist's watch. I was suspended.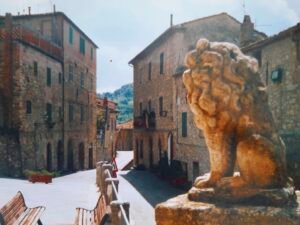 In Brighton, England, as I write this, I can still almost hear the heartbeat of that church bell, and the sounds of voices, uncannily clear, rising up from the plain below the village. I can see the sculpture of the lion outside the church, poised as always on his wall, between stony stillness and animal wildness. I can almost taste again the best peach I have ever known, offered to me straight off the tree. There are few weights more pleasurable in the palm of one's hand than a fresh, ripe peach.
In my mind's eye, in the village shop, I am offered again my first morsel of pecorino toscano cheese. The people of Pari nod to me, smile, gesture and proffer greetings. The scents of herbs and blossom, heated by the morning sun, waft in my wake. I am touched again by the human-scale loveliness of claypot roofs; by the golden veil of late afternoon light as it drops outside the Palazzo; by balmy nights of music, chat and dance outside the seemingly eternal café-bar.
Other memories blow in like blossom. I recall the luxury of Maureen's nasturtium fritters; the pleasure of watching children play freely everywhere inside the village walls—the village is their turf, above all. I am honoured to be shown Olinta's olive press by Olinta herself, although we hardly understood a word the other says. I am cheered again by the tidy vision of small bin-bags hanging from the village walls.
Something elemental—something beyond language—governs Pari, and, whether citizen or visitor, we pass through, its subjects only. What is the knowledge of those ancient, round-shouldered hills?  Who is to say?  But it speaks itself in brooding woodlands and umber fields; in the glow of fireflies on night walks; in the ancient stones, slick underfoot, as I dash through the village in the rain.