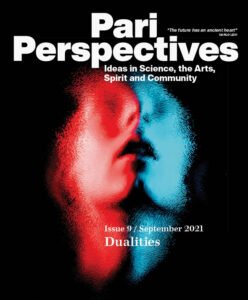 Welcome to Issue 9 of Pari Perspectives: Ideas in Science, the Arts, Spirit and Community.
The theme of our September 2021 issue is 'Dualities' and our contributors include Robert Norris, a recent and welcome addition to our list of Friends, who leads with a very thoughtful essay on 'Inescapable Journeys: On Integrating the Dual and the Non-dual.'  Our other contributors discuss duality in a number of its manifestations; virtual reality/real reality, male/female, science/religion, political polarization, creativity as the meeting of Apollo and Dionysus, western science/indigenous ways of knowing, and even a look at England/France through the eyes of the great painters and writers of the 19th century.
A highlight of this issue is an essay by Richard Berengarten named DYAD which includes examples from his book of thirty-two image-poems—beautiful anagrammatic structures of experimental word-play designed by Will Hill, a typographer whose work is concerned with type, letters and the visual properties of language.
The 'More Perspectives' section features 'Protest and the Political in Art' as its theme, ranging from the Dadaists to Black Lives Matter and examines protest art from Mexico, the Middle East, the USA, the UK, China, Russia, and Nowhereisland.
The journal is available to everyone who has become a Friend of the Pari Center: www.paricenter.com/membership
Below you can read a free article from this issue, to read more subscribe and support this initiative.