One of the major implications of the disenchanted worldview (Weber, 1919) that still underpins most scientific and academic discourse in the modern Western world, if not globally, is that the physical world, the world so spectacularly comprehended by science, is fundamentally devoid of meaning. And since, in most versions of the disenchanted worldview, life and consciousness are considered to be epiphenomena of physical processes, they too, in all their manifold expressions, are also ultimately devoid of meaning. Indeed, the experience of meaning itself, in this view, is an epiphenomenon of physical processes in the brain, from where it is then projected onto the world.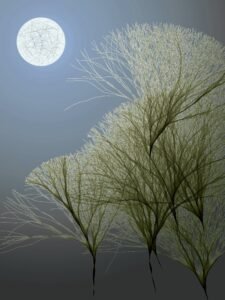 This is an extraordinary and profoundly counterintuitive view of reality, and one with serious practical consequences. For if the world is ultimately devoid of meaning beyond that which human subjects delusively project onto it, it is difficult to develop compelling arguments against the kind of predatory and exploitative relationships towards the world—the natural environment, other cultures, societies, individuals, and even ourselves—that are so widespread today as well as in the historical record (Bilgrami, 2010, pp. 148–152).
It was partly against such a worldview that Carl Jung (1875–1961) developed his psychological model and, very specifically, his concept of synchronicity. Where the dominant science of Jung's day excluded meaning from its purview—above all, on the principle that values cannot be derived from facts—Jung (1952b), with the concept of synchronicity, precisely postulated that meaning is an intrinsic feature of reality and should be integrated into an expanded form of science. He defined synchronicity concisely as 'meaningful coincidence' (par. 827), stated that it expresses 'an objectivemeaning which is not just a psychic product' (par. 915), and argued that it introduces this factor of 'a priori meaning' into 'our knowledge and description of nature' (par. 962).
Given the central role that Jung ascribed to meaning in synchronicity, it is important to understand what he meant by such meaning. In this short paper, I shall note some of the main aspects of Jung's use of the term 'meaning' in relation to synchronicity. This should help us to see why synchronicity, as a principle of acausal connection through meaning, is such a pivotal part of Jung's challenge to the worldview of disenchantment. I shall highlight three aspects of Jung's (sometimes implicit) understanding: the multiplicity of levels of meaning in synchronicity; the role of the archetype, understood as psychoid, in underpinning those levels of meaning; and the participatory nature of the experience of meaning in synchronicity.