The Covid pandemic has required us to keep a broader social distance from one another and where possible to work from our homes. For psychotherapists this should be less of a problem, but it seems that taking up an alternative (using online technologies such as Zoom and Skype) to meeting clients in person has not been an easy transition for all psychotherapists to make.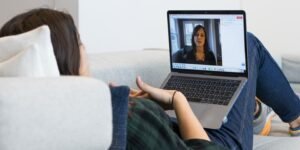 With reliable broadband making a session online as clear and uninterrupted as if you were together in a consulting room, why do so many people still find that the online session (or any meeting for that matter), falls so far short of meeting in person? Many would say it is because one is 'real' and the other is an electronic screened version of the session and by implication not (as) 'real.'
I have to add the 'as' because a computer screen and audio speakers are as solid, material and real as a person in front of us. And the image and voice of the person on the screen is an accurate version of the reality it has mediated and delivered to us through the software and broadband into the computer itself. Our senses are responding in exactly the same way to the audio signal and the screen image as our eyes would respond to the sight and voice of the person in front of us.
If we class the in-person meeting between two people in the same physical space as 'reality,' we need to call the online meeting a 'virtual reality.' What do we mean by the word 'virtual' when pairing it with 'reality'?  The word virtual has had the meaning of 'being something in essence or effect, though not actually or in fact' since the mid-1400s and the term 'virtual' has been used in the computer sense of 'not physically existing but made to appear by software' since 1959. (Wikipedia 2021).
In discussing the difference between the two types of session, so far I have been broadly in line with that second definition—the software allows the client and the session to appear to our senses when it is not physically in front of us. The first and older definition is more interesting: although the person and session is not present 'actually or in fact,' what is present is something in essence or effect.
Given that most of us have switched to working in this way and by and large are still delivering effective psychotherapy (or indeed other activities, like teaching), the question arises as to how this can possibly work? How come an activity belonging to the field of personal human relations, specialising in the emotional, psychological, and symbolic understanding between two people and the internal understanding that accompanies this, can be conducted in any equivalent way if the two people do not physically encounter one another and have a dialogue for fifty minutes in the same space? Is the 'virtually real' as good a version as the 'real' one? If not and it is less good, in what way is it inferior and why? If the 'virtual' is as good, and maybe sometimes better, than the 'real' conditions, why might that be?
Psychotherapists are keen to banter this question around and find all sorts of reasons for one side or the other, with the gold medal usually going to the 'real' in-person session. But maybe we are asking a redundant question. Maybe our assumption that there is a 'real' version and there is a 'virtual' version (let alone that one is 'better' than the other) is wrong to begin with.
I would like to lay out three approaches to this question. These go broadly beyond the rather parochial arguments around what is needed for a psychotherapy session to work, but they will still have a certain bearing on how online work in general is seen.
The first derives from the philosophical implications arising from quantum physics and other fields as analysed by David Deutsch in his book The Fabric of Reality (Deutsch, 1997). The second approach digs further into philosophical implications around the nature of what is real and discusses the idea that material reality is not an objective fact but is only known through being rendered in consciousness and therefore consciousness is all there is. This is known as metaphysical idealism. Here I rely mainly on Bernardo Kastrup's (Kastrup 2020, 2021) work especially his understanding of both Schopenhauer's The World as Will and Representation and of Jung's metaphysics.
Lastly, when involved in our 'virtual' session we need to remember we are watching a screen and listening to those appearing on it in front of us. Of course this is what we do when we watch a film or documentary which have long been delivering 'reality' to us in this form. And yet no one is saying we should abandon this activity and seek out the 'real' version as the only authentic one. No, far from it. We enjoy immersing ourselves in these 'virtual realities' So I will finish with discussing the bio-evolutionary ideas around visual perception, meaning and affordance (Gibson, 1979) in relation to the film experience. In doing so I will bring us back to that definition of virtual which flagged it as something in essence or effect. This may put the idea of the 'real reality' and the 'virtual reality' in a new perspective.