Don't Miss
This Sunday Free Community Event
---
Online Free Pari Community Event
Hope And Delusion: Critical Storytelling For Difficult Times
with Robert Norris
Sunday May 16 
9:00am PDT  | 12:00pm EDT  | 5:00pm BST  |  6:00pm CEST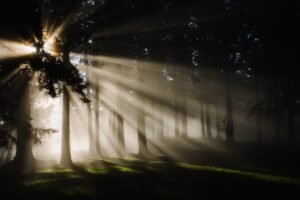 Robert Norris will open our May Community Call with the presentation 'Hope and Delusion: Critical Storytelling for Difficult Times.' When we realise just how much hangs on our attitudes towards the various forms of crisis we are exposed to, we may come to see what our work really is. Hope has a curious story to tell. It reminds us of the wealth we carry within us, but also of how easily we are persuaded to give it all up. This talk attempts to string together disparate stories relating to, but not necessarily about, hope, and aims specifically to raise more questions than it answers. Accompanying the talk there will be breakout and plenary sessions in which participants will be able to articulate their thoughts and responses.
Robert is an independent researcher who teaches English as a foreign language and has wide-ranging interests and experience. He is a regular and valuable contributor in our webinar discussion sessions.
THIS EVENT IS FREE AND OPEN TO EVERYONE!
Join our Zoom session via the following link: https://us02web.zoom.us/j/84842167052
For more information: https://paricenter.com/event/hope-and-delusion/
---
with Richard Baker Roshi, Valerie Hardcastle, Basil Hiley, Bernardo Kastrup, Gary Lachman, Iain McGilchrist, Roderick Main, Paavo Pylkkänenand Beverley Zabriskie
Chaired by Shantena Sabbadini
8 two-hour online sessions, one every Saturday and Sunday
June 5 – 27, 2021
9:00 PDT | 12:00 EDT | 17:00 BST  |  18:00 CEST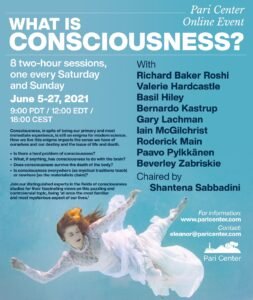 Program of Event
Saturday June 5
Analytic Idealism 
with Bernardo Kastrup
Sunday June 6
Can Quantum Mechanics Solve the Hard Problem of Consciousness?
with Basil Hiley and Paavo Pylkkänen
Saturday June 12
Mundane and Mystical: A Panentheistic Perspective on C. G. Jung's Late Thoughts About Consciousness, Ego, and Self
with Roderick Main
Sunday June 13
Emotion, Synchronicity and Surprise
with Beverley Zabriskie
Saturday June 19
Beyond the Robot: Consciousness and Existentialism
with Gary Lachman
Sunday June 20
What Is the Neural Correlate of Consciousness?
with Valerie Gray Hardcastle
Saturday June 26
The Inner Science, Experiential Investigation, and Analysis of Consciousness
with Richard Baker Roshi
Sunday June 27
The Brain and our Encounter with the World
with Iain McGilchrist