I've had dreams of all sorts from time to time, but I don't remember them too well. There was one dream that had a sort of philosophical content.
I dreamt I was in a place that had a cat. I came into the room where this cat was talking to another cat, making a date to meet at a certain time, I said, 'There's something wrong here. What could it be? I know what it is. Cats can't tell time!'
I went up to the cat and said, 'What do you mean by making this date? You know you can't tell time.'  
The cat said, 'Of course we cats can tell time.' 
I said, 'I don't believe it. There's a clock on the wall. Tell me the time.' The clock showed a quarter after eight. 
But the cat hemmed and hawed and said, 'Five after four, ten after three.' 
So I said, 'That proves that cats can't tell time!'
Then I woke up laughing because the point was that in the dream, I was concerned with some trivial difficulty when a more fundamental issue was askew. The trivial difficulty was that cats can't tell time. The fundamental absurdity was the cat talking!
David Bohm in an interview
---
FEATURED NEWS
Conversations with Friends of the Pari Center:
Julie Arts
Our fourth interview in the series Conversations with Friends of the Pari Center features Julie Arts interviewed by James Peat Barbieri.
Julie Arts first came to Pari in May 2007 to take a New Science/New Paradigms course with David Peat and, in a sense, never left. She has returned many times, has been a great supporter and advisor over the years, and has now bought a house in Pari. She talks about her experiences at the Pari Center and connects our work with the Presenting Institute, a project that is of great importance to her.
---
Saturday July 11 at 18:00 CEST
The Pari Center's Exclusive Screening of the Director's Cut of the documentary
This is free and open to everyone
The Pari Center has the privilege of showing the expanded version of Infinite Potential – the two-hour director's cut. Don't miss this opportunity! Reserve your seat now!
David Peat's long-term dream was to produce a documentary about his colleague and friend David Bohm. Now, with the support of the Fetzer Foundation, the Mind and Life Institute, director Paul Howard and Imagine Films, and the Pari Center Community, the dream has finally been realised. Pari was the birthplace of the film, and many of the interviewees were filmed here in the village, so it is an honour for us to present the long-awaited Infinite Potential: The Life and Ideas of David Bohm.
By telling the little-known story of David Bohm and evoking the realms he explored in his research, INFINITE POTENTIAL takes us on a journey through the life and work of the great physicist. The film includes interviews with luminaries such as H.H. the Dalai Lama, Sir Roger Penrose, long-term colleague Basil Hiley, artist Sir Antony Gormley and many more who have been influenced by and are continuing Bohm's revolutionary work.
To get your free ticket: https://paricenter.com/event/infinite-potential-the-life-and-ideas-of-david-bohm-screening-of-directors-cut/
---
Pari Center Online Summer Series
 
Infinite Potential: Exploring the Life and Work of David Bohm
July 12 – August 23, 2020 at 18:00 (CEST)
This summer we are offering a unique opportunity to take part in an exploration of Bohm's life and ideas. Join us online for a series of presentations by former colleagues of David Bohm and scholars of his work. Each session will allow time for audience participation in the form of dialogue, discussion and Q&A.
The presenters will examine the many facets of Bohm's life and work—physics, philosophy, wholeness, implicate and explicate orders, holomovement, consciousness, dialogue, language and the rheomode, interaction with the Blackfoot, his relationship and dialogues with J. Krisnamurti.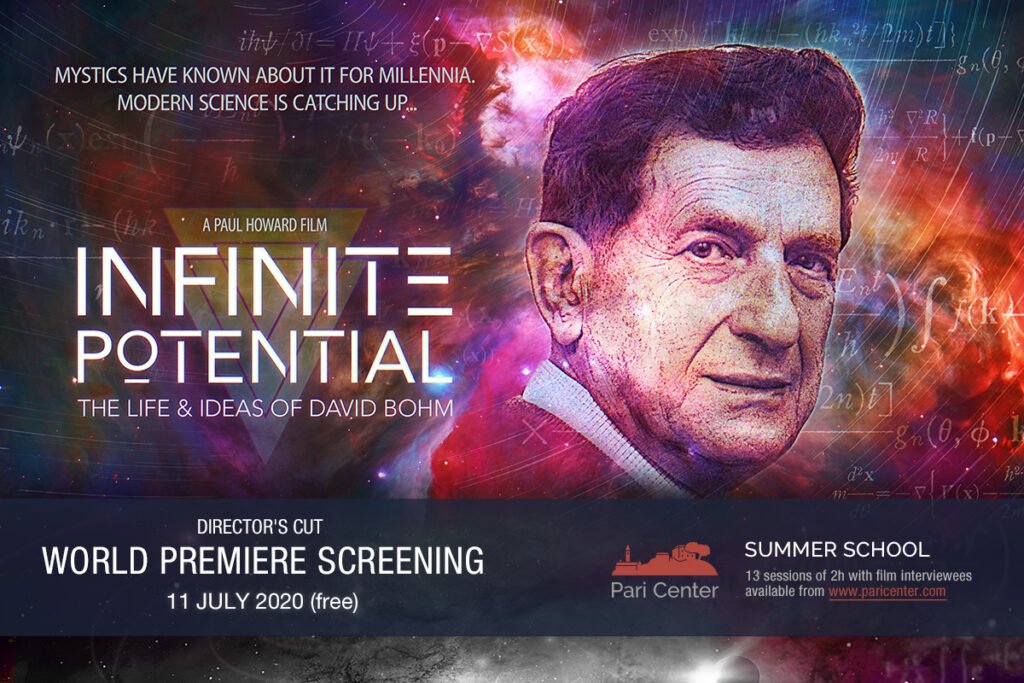 Two-hour live sessions on every Saturday and Sunday from Sunday July 12–Sunday August 23
Chris Dewdney, PhD, Reader in Theoretical Physics, University of Portsmouth, UK
Professor Olival Freire Jr., professor of physics and history of science, Universidade Federal da Bahia, Brazil
Professor Basil Hiley, collaborator and colleague of David Bohm for over 30 years
Paul Howard, Film and Television Producer and Director, Ireland
Leroy Little Bear, PhD, Blackfoot Native. Professor Emeritus University of Lethbridge, Canada
Beth Macy, PhD, organizational consultant, Bohmian dialogue practitioner
David Moody, PhD, author and educator
Lee Nichol, Bohm collaborator, editor, educator
Glenn Aparicio Parry, PhD, author, educator, ecopsychologist, and political philosopher
Paavo Pylkkänen, PhD, Philosopher of Mind, Helsinki University, Finland
Shantena Augusto Sabbadini, PhD, quantum physicist and philosopher
David C. Schrum, PhD, quantum theorist
Jan Walleczek, PhD, Director of Phenoscience laboratories
For more information: https://paricenter.com/event/infinite-potential-exploring-the-life-and-work-of-david-bohm/
or contact Eleanor Peat: eleanor@paricenter.com
---
Online Pari Community Conversations:
Presencing with Julie Arts
Saturday June 27 at 16:00 (CEST)
Presencing (blending Presence and Sensing) is the capacity to operate from the source of one's highest future possibility, in the Now – an intentional realisation of the present through active dialogue with the emerging future.
Julie Arts, from the Presencing Institute, will share elements of Theory U, a framework for profound innovation developed to allow individuals, organizations and communities to address their most pressing challenges.
Theory U, as an awareness-based method for transformation, is inspired by the wisdom and experience of many scientists, artists and spiritual lineages, including David Bohm, Francisco Varela, Henri Bortoft, and others.
The Practice is both highly systemic and deeply personal – most essential is the individual and collective capacity for deep listening, generative dialogue and sensemaking, as we learn to allow the future to emerge through us. As Martin Buber put it, "the future stands in need of you in order to be born". Or as David Bohm said: "The whole is present in the parts; separation without separateness."
The Presencing Institute was founded in 2006 by MIT Sloan School of Management Senior Lecturer Dr C. Otto Scharmer and colleagues, to create an action research platform at the intersection of science, consciousness, and profound social and systems change.
This online presentation will be followed by discussion and Q&A.
 This event is open to everyone!
Join our Zoom meeting via the following link:    https://us02web.zoom.us/j/83050092250
If you would like to participate, have any questions or need any help just contact Eleanor Peat: eleanor@paricenter.com
---
PARI PERSPECTIVES 4
Language Matters

Pari Perspective: Ideas in Science, the Arts, Spirit and Community.
In this issue we explore language, communication and dialogue with a special section on Bohmian dialogue. Fragmentation versus wholeness…that, according to theoretical physicist, David Bohm, was the greatest challenge to today's human beings. Not the conquering of space or the finding of even more minute units of matter, but our ability to get along together and to think together is the greatest frontier. And surely, unless we 'think together,' we are not properly communicating.
Each month we will be selecting an essay from our current issue to download for free. This month our free essay from Pari Perspectives is
In the 21st-century, infographics are everywhere. In the classroom, in the newspaper, in government reports, these concise visual representations of complicated information have changed the way we imagine our world. Susan Schulten explores the pioneering work of Emma Willard (1787–1870), a leading feminist educator whose innovative maps of time laid the groundwork for the charts and graphics of today.
The journal is available to everyone who has become a Friend of the Pari Center: www.paricenter.com/membership
---
FRIEND OF THE PARI CENTER
Membership Campaign 2020
Help us Reach our Goal of 300 Members allowing us to carry on the work of the Pari Center!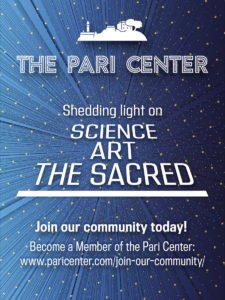 None of us can predict what the next few months will bring. Our planned events for this year are now uncertain. We are fortunate to have few overheads at the Center but we still need an income to cover administration costs, maintain our website, publish Pari Perspectives, and so forth. We ask you to please consider becoming a Friend of the Pari Center. By so doing you will be helping the Center to extend the work of David Peat, to continue with its established events and projects, and to start new ventures.
We need your Help and Support!!
Your membership fee will entitle you to:
a digital copy of the quarterly Pari Perspectives
a 10% discount on all events at the Pari Center on any events you may choose to attend at the Pari Center within the year
access to a Members Area of our website which will include blogs, discussion groups, and a library of past issues of Pari Perspective
Your Friend of the Pari Center membership is valid for one year from the date of purchase.
Join our Community now and become a Friend of the Pari Center!