The world is flux, things pass away, contexts change, people grow and age, organizations flourish or atrophy. To remain healthy means being able to accept change. It means supporting change in others—one's children, a partner, the profession in which one is engaged. It means facing the fear inside, coming to terms with the shadow. Not clinging onto the past. It is a harmony between the need to renew and foster what is important and be open to that which must die and be replaced. Creativity is a willingness to accept endings, to discard, to sacrifice. It is the goddess Khali who must destroy in order to create.
F. David Peat
---
FEATURED NEWS
Conversations with Friends of the Pari Center:
Shantena Augusto Sabbadini
Our third conversation with a Friend of the Pari Center features Shantena Sabbadini interviewed by James Peat Barbieri.
Shantena Augusto Sabbadini, Director of the Pari Center, talks about his first encounter with David Peat, and what he sees as the important work of the Pari Center – i.e. conveying the idea that there is no separation between science and spirituality; that the same inquiry, asking the same fundamental questions, is present in both.
Below is an excerpt of the full interview that you can find here: https://youtu.be/GShec3p9HfM
---
PARI PERSPECTIVES 3
Our Changing World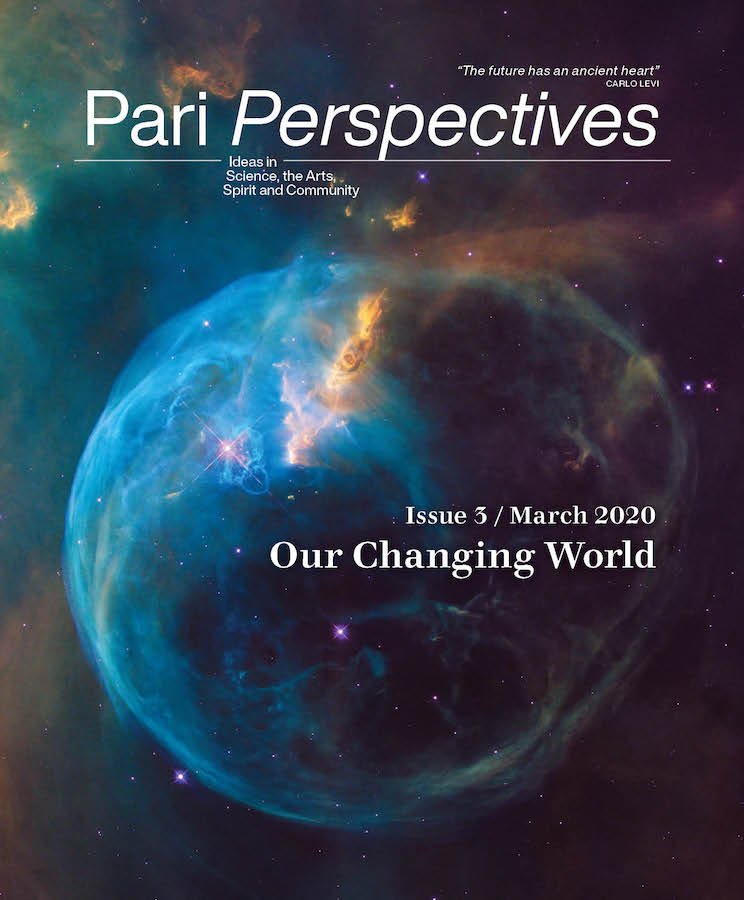 Pari Perspective: Ideas in Science, the Arts, Spirit and Community.
In this issue we explore 'Our Changing World,' and as bleak, dangerous and disintegrating as we may experience it so many of our writers have expressed hope in the way Václav Havel spoke of hope. Hope as the transcendent virtue. Hope as the opposite of despair. Hope is everything to do with the human spirit.
Each month we will be selecting an essay from our current issue to download for free. This month our free essay from Pari Perspectives is:
Coppo di Marcovaldo (c.1260), Satan, ceiling of the Florence Baptistery
The journal is available to everyone who has become a Friend of the Pari Center: www.paricenter.com/membership
---
EVENTS 2020
Online Events
Much of the world is still on lockdown although things are beginning to open up a little in some places. However, we don't yet know if we will be able to meet in person in Pari this year. One way for us to connect is our Zoominars. Two weeks ago the Pari Center community got together for a second time when we held our Zoom dialogue on the topic of 'Gentle Action' with guests Shantena Sabbadini, Godelieve Spaas and Donna Kennedy-Glans. We thank everyone who attended – presenters and participants. It was good to see everyone and to hear such thoughtful responses to the global crisis and the hope that the world to which we will be returning one day will be kinder and gentler. 
We are offering a monthly Online Pari Community Conversation which features a few opening words on a pre-announced topic followed by small group discussions. We will then come together to share some of the issues that emerged in the breakaway groups and end with a summing-up. These will be free and open to anyone. See below for details of the next Zoom meeting.
A second venture is the monthly Pari Dialogue series on Zoom. These will feature one or more experts who will give a presentation on a pre-announced topic followed by a Q & A session and small group dialogue.  There will be a charge of €15 per participant. For details of the next online Pari Dialogue see below.
---
Pari Dialogues: What Is Reality Really Like?
with Shantena Sabbadini
Saturday May 9, 2020 at 16:00 – 17:30 Central European Standard Time (GMT+2)
We ordinarily assume that we know what is real. I assume the computer I am typing these words on is a real solid object here in front of me, set on a real wooden table, which has been with me for many years. They both seem real enough.
And yet, are they? Physics gives me quite a different picture: these apparently solid objects are actually the interplay of infinitely extended fields, and my experience of them is actually the flickering of neuron connections in my brain. But we don't see things that way. Fortunately, because it would be a very confusing world if we did.
What then determines what we perceive as real? Is there an ultimate reality? In this webinar we shall play with such radical questions.
This presentation will be followed by Q & A and discussion.
This event has a fee of €15,00 per participant.
If you have any questions or need any help please contact Eleanor Peat eleanor@paricenter.com
---
Online Pari Community Conversations:
Science, Art and David Bohm
Saturday May 23 at 16:00 Central European Summer Time (GMT+2)
The artist, the musical composer, the architect, the scientist all feel a fundamental need to discover and create something new that is whole and total, harmonious and beautiful. Few ever get a chance to try to do this, and even fewer actually manage to do it. Yet, deep down, it is probably what very large numbers of people in all walks of life are seeking when they attempt to escape the daily humdrum routine by engaging in every kind of entertainment, excitement, stimulation, change of occupation, and so forth, through which they ineffectively try to compensate for the unsatisfying narrowness and mechanicalness of their lives.

David Bohm
An exploration of the marriage of science and art through the ages with particular reference to how David Bohm's ideas have influenced artists. But does art influence science? Bohm was intrigued by the nature of order in the paintings of Monet and Cézanne where each part is related to the whole. He felt that if he could only discover the mathematics of an impressionist painting then that would be the very mathematics he needed to describe his new vision of the quantum theory. Artists will discuss the impact Bohm has had on their work followed by discussion and Q&A.
We invite you to share your personal reflections in an online Pari Dialogue about Science, Art and David Bohm. This event is open to everyone.
Join our zoom meeting via the following link: https://us04web.zoom.us/j/917407312
If you would like to participate or have any questions please contact Eleanor Peat eleanor@paricenter.com
---
FRIEND OF THE PARI CENTER
Membership Campaign 2020
Help us Reach our Goal of 300 Members allowing us to carry on the work of the Pari Center!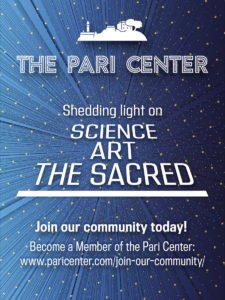 None of us can predict what the next few months will bring. Our planned events for this year are now uncertain. We are fortunate to have few overheads at the Center but we still need an income to cover administration costs, maintain our website, publish Pari Perspectives, and so forth. We ask you to please consider becoming a Friend of the Pari Center. By so doing you will be helping the Center to extend the work of David Peat, to continue with its established events and projects, and to start new ventures.
We need your Help and Support!!
Your membership fee will entitle you to:
a digital copy of the quarterly Pari Perspectives
a 10% discount on all events at the Pari Center on any events you may choose to attend at the Pari Center within the year
access to a Members Area of our website which will include blogs, discussion groups, and a library of past issues of Pari Perspective
Your Friend of the Pari Center membership is valid for one year from the date of purchase.
Join our Community now and become a Friend of the Pari Center!