---
STARTING IN 10 DAYS
EXPLORING BEYOND BOHM
---
Each year the Pari Center offers its community an in-depth look at various aspects of David Bohm's work and ideas. This year we are inviting you to Beyond Bohm, a two-part exploration covering the multi-faceted David Bohm and the implications of his legacy for the future.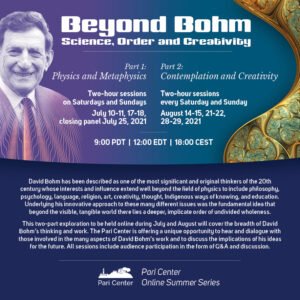 Join our team of experts including:
Leroy Little Bear, Basil Hiley, Hester Reeves, Lee Nichol, Paavo Pylkkänen, Mark Vernon, Beth Macy, Giuseppe Vitiello, Emily Adlam, David Schrum, Shantena Sabbadini and over 20 other guests
July 10 – 25 and August 14 – 29
9:00 PDT | 12:00 EDT | 17:00 BST  |  18:00 CEST
11 two-hour online sessions, one every Saturday and Sunday
 
All sessions are live. Recordings will be sent to all participants within a few days of each session. These are yours to view as many times as you wish. 
---
In Part 1, Physics and Metaphysics, we have invited former colleagues and scholars of his work to look at Bohm's interpretation of quantum physics which is now being rediscovered and taken into consideration both in philosophical debate and in mathematical and experimental developments.

Emily Adlam, Basil Hiley, Paavo Pylkkänen and Giuseppe Vitiello
July 10–11, 17–18, 25
9:00 PDT | 12:00 EDT | 18:00 CEST
Two-hour sessions on Saturdays and Sundays
For more information: https://paricenter.com/event/beyond-bohm-part-1/2021-07-10/
---
Part 2: Contemplation and Creativity will feature roundtables, each having a core group of guest presenters in conversation and dialogue on Bohm's philosophical ideas that crossed multiple disciplines with a holistic approach. These include dialogue, creativity, imagination, consciousness, and indigenous ways of knowing and western thought.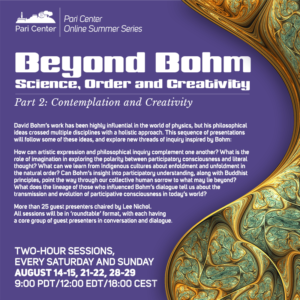 Leroy Little Bear, Beth Macy, Lee Nichol , Hester Reeves , David Schrum , Mark Vernon and over 20 other guests
August 14–29
12:00 EDT | 18:00 CEST
Two-hour sessions every Saturday and Sunday
This exciting six-part series has been arranged in a sequence of Circles—Circles on Dialogue, Indigenous Ways of Knowing, the Arts, Creativity, Imagination and Consciousness—with over 25 presenters who contribute their insights through conversation and dialogue.
For more information: https://paricenter.com/event/beyond-bohm-contemplation-and-creativity/2021-08-14/
---
BECOME A FRIEND OF THE PARI CENTER
---
Membership Campaign 2021
HELP US CARRY ON THE WORK OF THE PARI CENTER!
We ask you to please consider becoming a Friend of the Pari Center. By so doing you will be helping the Center to extend the work of David Peat, to continue with its established events and projects, and to start new ventures.We need your help and support!
---
The Pari Center was conceived as a haven of peace and gentle action in a world increasingly gripped by crisis and turmoil. It is a place dedicated to the idea of the wholeness of knowledge; the arts, science, ethical values, community and the sacred, all coming together within the ambience of a medieval village.
This year because of the global emergency we are unable to offer our annual seminars and events. Nor will we be able to re-activate our residential programme for people from the many disciplines who wish to work together or independently in a creative environment. All our activities are on hold until next year.
The Pari Center, a not-for-profit organization, could not exist without the generosity of our supporters, sponsors and friends. We are now asking if you would donate even a small amount that will help support us financially and enable us to continue our work through these difficult times.
We thank you sincerely.
The Pari Center Team