How can synchronicities exist in a world that is dominated by causality? At first sight the Newtonian vision of nature determines all events in the universe and therefore leaves no room for meaningful patterns of coincidence. While quantum theory has successfully challenged the exclusive nature of this worldview, the loophole it offers is simply not wide enough to admit synchronicity. It is only when causality is pushed to the limit that it is discovered that the actual context in which events take place must extend indefinitely. In other words, everything that happens in our universe is caused by everything else. Indeed, the whole universe could be thought of as unfolding or expressing itself in its individual occurrences. It is within this global view that it becomes possible to accommodate synchronicities as meaningful events that emerge out of the heart of nature.
David Peat
---
Don't miss our exciting new series
February 13 – March 7, 2021
with Allan Combs, Roderick Main, Cruz Manas Sabbadini, Mathew Mather, Remo Roth, Shantena Sabbadini, Yuriko Sato, Jean-Francois Vezina and special guest, poet Richard Berengarten
Register now for our exciting series on the Jungian concept of Synchronicity with a group of international experts. In addition to our faculty, we are delighted to announce that poet Richard Berengarten will begin each session with a reading from two of his collections: Notness which includes ten sonnets entitled 'On Synchronicity,' and his ambitious Changing, a homage to the I Ching. 
The sessions will include:
Necessary Chances: Synchronicity in the Encounters that Transform Us 
Numinous Matter: Synchronicity and the Reanimation of the Physical World
Synchronicity: A Common Reality in Japan
I Ching and Synchronicity 2-day Workshop
Tarot and Synchronicity: Reading the World as Symbol  – Interactive session
The Trickster Inside and Out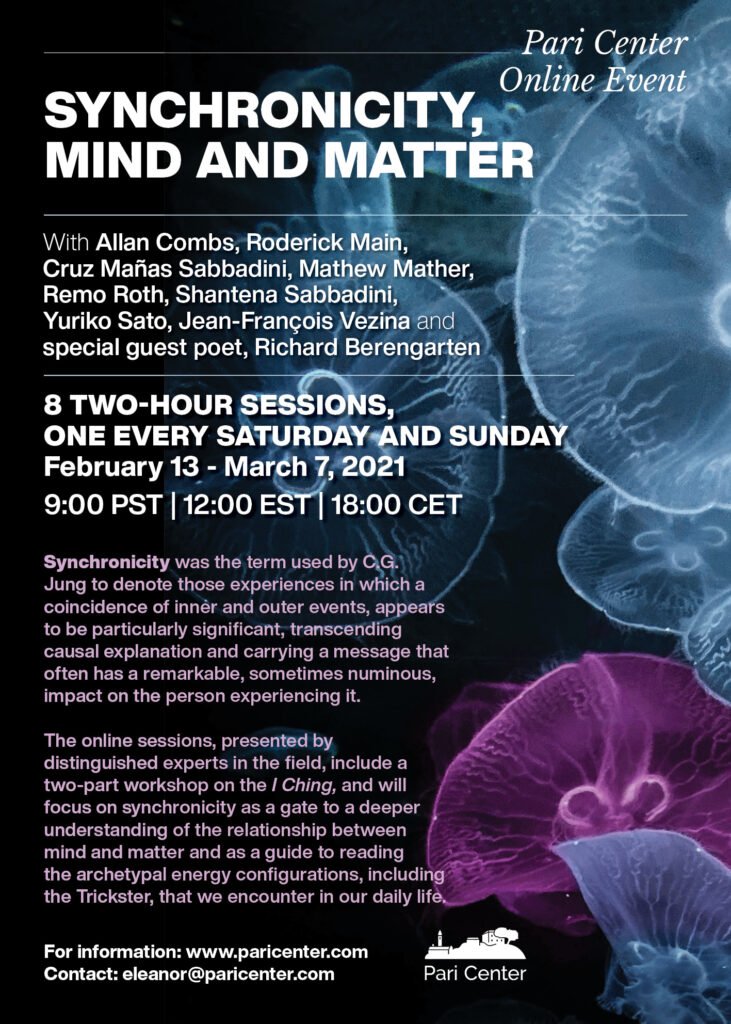 Synchronicity is a concept, first introduced by analytical psychologist Carl Jung, which holds that events are 'meaningful coincidences' if they occur with no causal relationship yet seem to be meaningfully related. Join us for presentations and discussions with our guest speakers, scholars who have thought very deeply about the underlying principle behind synchronicities and their meaning.
---
Flickering Reality: Exploring Ideas in Film and Television
Flickering Reality is a free monthly get-together for the Pari Community to explore films, documentaries and TV series that are thought-provoking, philosophical, and take risks. Join us for presentations followed by discussion. All ideas and suggestions for future get-togethers are welcome.
Saturday January 30, 2021
at 9:00 am PST  |  12:00 pm EST  |  6:00 pm CET
Would Christianity have taken off as successfully if Christ had been imprisoned and died out of sight? The horrific image of a nearly naked man, nailed to a cross and bleeding from his hands, feet, forehead and stomach has had greater impact. What is the relationship between horror, its images and the sublime?
From the ancient through the mediaeval to Victorian and contemporary forms of the genre, horror, and terror, have been used to impress upon us the frailty of humanity and, often, the value of a spiritual alternative. In one era, the paintings of Bosch or the original German folk tales could terrify their audience, while in the present day the horror film and its digital game equivalent offer a corresponding function.
Jung was aware of how myth and archetypal imagery took on modern forms when included in contemporary visual media—and yet the psychological impact remained. Jung maintained that evil was a real entity in the world.  In their stories, horror writers and filmmakers rely on such an assumption. Christopher Hauke will be discussing a Jungian perspective on horror, the sublime and the role of terror with wide-ranging examples from literature and especially film. You may want to keep the light on…
This series is free and open to everyone! Join our Zoom meeting via the following link: https://us02web.zoom.us/j/81879261698
Our first get-together in the series took place on December 13 with James Peat Barbieri Exploring Alex Garland's Devs (2020). This session explored the ideas in physics used in the show, such as Bohm and Everett's interpretations of Quantum Mechanics, the philosophical implications of living in a deterministic world, and the meaning of faith in science and in the creators of visionary technologies.
If you missed this first session and would like to see the recording:https://youtu.be/HbzND6KzXYM
---
From our latest issue of Pari Perspectives titled 'In Memoriam: David Bohm 1917-1992' we are pleased to offer Beth Macy's essay 'The Backstory of David Bohm's Dialogue' free of charge. Beth has been involved in Bohmian dialogue for many years and is completing a book on the ideas and individuals who influence Bohm's methodology of dialogue. This is a fascinating read on how David Bohm came to develop his ideas of Dialogue.
---
Pari Perspectives
In Memoriam: David Bohm 1917-1992
David Bohm has been described as one of the most significant thinkers of the twentieth century. A theoretical physicist whose radical theories challenged the standard interpretation of quantum mechanics, his interests and influence extend far beyond the narrow confines of science. He worked on theories of mind and consciousness, developed a method of Dialogue, and had close relationships with both Krishnamurti and the Dalai Lama. Our 'In Memoriam' issue includes essays by former colleagues of David Bohm and scholars who are continuing and building on his work, as well as 'lay people' who have contributed shorter piece discussing the influence David Bohm has had on their thinking. One of the neglected areas of Bohm's influence is the visual arts and so we are pleased to include ten artists: painters, sculptors, photographers, installation artists and a cartoonist who have been heavily influenced by Bohmian ideas. A fully-illustrated, 230-page issue of excellent reading material for the holidays.
Don't miss this issue with contributions by Basil Hiley, Paavo Pylkkänen, Lee Nichol, F. David Peat, David Moody, Beth Macy, David Schrum, Glenn Aparicio Parry, Shantena Sabbadini, Paul Howard, and many more. 
Pari Publishing, The Pari Center publishing house, congratulates Colin Tudge who has been awarded the Scientific and Medical Network 2020 Book of the Year for his The Great Re-Think: A 21st Century Renaissance. It's a well-deserved win for a terrific book and we are proud to be the publishers. Colin contends that we and our fellow creatures could still be looking forward to a long and glorious future: at least a million years of peace and personal fulfilment, with abundant and diverse wildlife. But to achieve this we need to re-think everything that we do and take for granted, from the day-to-day mundanities of growing and cooking, to the economy and methods of governance, to the most arcane reaches of science and metaphysics. It all amounts to nothing less than a Renaissance. The Great Re-Think is a great read—available from high street and online bookstores.
For more information and order a copy of the book
---
Online Pari Dialogue:
What Breakthroughs in Science Can We Reasonably Predict?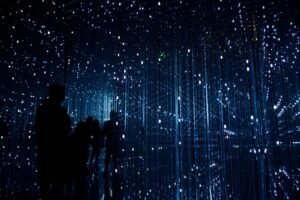 Although Olival Freire Jr. is a historian of science he was looking at the future last Saturday in his presentation 'What Breakthroughs in Science Can We reasonably Predict?'
1. He predicted that the technological breakthroughs will be on the same scale and have the same impact as steam power, electricity and flight. Quantum computers using the particles in superposition are already being developed by IBM and others
2. Breakthroughs in Quantum Computers may lead to a new foundation of Quantum Theory (currently it's a 'colossus with clay feet' – 
Franck Laloë
)
3. Breakthroughs in Quantum Gravity: the marriage of relativity and QM.
Possible ways: String theory, Loop Gravity (studied since the 70s, but so far no results)
4. Breakthroughs in Cosmology: discovering what Dark Matter and Dark Energy really are.
Possible way: through the study of black holes, which has had interesting developments in recent times
The ensuing discussion in breakaway groups and then the full group covered the pandemic, cold fusion, AI singularity, free speech, freedom and responsibility, climate change and the 'reculturalisation' of children.
If you missed this event and would like to purchase the recording, please email Eleanor at
eleanor@paricenter.com
---
FRIEND OF THE PARI CENTER
Membership Campaign 2021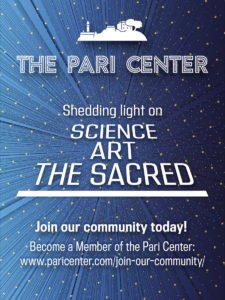 None of us can predict what the next few months will bring. Our planned events for this year are now uncertain. We are fortunate to have few overheads at the Center but we still need an income to cover administration costs, maintain our website, publish Pari Perspectives, and so forth. We ask you to please consider becoming a Friend of the Pari Center. By so doing you will be helping the Center to extend the work of David Peat, to continue with its established events and projects, and to start new ventures.
We need your Help and Support!!
Your membership fee will entitle you to:
a digital copy of the quarterly Pari Perspectives
a 10% discount on all events at the Pari Center on any events you may choose to attend at the Pari Center within the year
access to a Members Area of our website which will include blogs, discussion groups, and a library of past issues of Pari Perspective
Your Friend of the Pari Center membership is valid for one year from the date of purchase.
Join our Community now and become a Friend of the Pari Center!