Pari Dialogues: The Great Re-Think
The Agrarian Renaissance
with Colin Tudge
Saturday June 6, 2020 at 16:00 (CEST)
You never change things by fighting the existing reality. To change something, build a new model that makes the existing model obsolete.
Buckminster Fuller
Although the world is in a terrible state on every front—Covid-19 is just the surface of our problem—there is still time to turn things around. Indeed we and our fellow creatures could and should be looking forward to a long and glorious future—the next million years for starters. To achieve this though we need to re-think everything that we do and take for granted—and to re-think everything in the light of everything else to provide a coherent, 'holistic' worldview, and to re-structure accordingly. It all amounts to nothing less than a Renaissance, more profound and far-reaching than the European Renaissance of the 14th-17th centuries. But the present ruling powers—governments, corporates, financiers, and their chosen intellectual advisers—are geared to the status quo and are not going to do what's needed. So we, people at large, Ordinary Joes and Jos, must take the lead.
So what's entailed? And how do we go about it?
This presentation will be followed by Q & A and discussion.
This event has a fee of €10,00 per participant.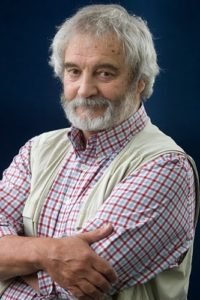 Colin Tudge is co-founder of the Oxford Real Farming Conference, the Real Farming Trust, and the College for Real Farming and Food Culture.
He has just finished a book, The Great Re-think, to summarize the ideas needed to bring about an Agrarian Renaissance as a key step in the development of the grand Renaissance that is now needed to restore the world. The Great Re-think will be published by Pari Publishing asap.
If you have any questions or need any help please contact Eleanor Peat eleanor@paricenter.com
Please do a try-out beforehand (download the latest version of zoom) and make sure you have a good wifi connection or (even better) an internet cable. On Saturday evening connect to our zoom space from a quiet place with the link and be in our zoom space at the latest at 15.55. For those who have no experience with zoom, please login at the latest at 15.45 CEST. We will be there to give you technical support if needed.