Saturday January 16 at
9:00 PST  | 12:00 EST  |  18:00 CET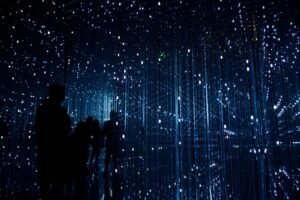 What paradigm shifts can we expect in the 21st century? The experts have predicted they will include:
 'The genetic engineering of children,' says Prof Lee Silver professor of genetics at Princeton University.
 'The discovery of a Theory of Everything' says Richard Peto, professor of medical statistics and epidemiology at Oxford University.
'Clean fuel,' says Charles Baker, head of fusion research in the University of California San Diego's school of engineering.
 'The full understanding of human consciousness,' says Richard Dawkins, Oxford University's professor of the public understanding of science.
 'The engagement of the public in science and the expression of scientific ideas in a way they can understand and contribute to,' says Susan Greenfield, the first female head of the Royal Institution and a professor at Oxford University leading a multidisciplinary group on the brain.
 'Searching for extra-terrestrial life,' says Roger Angel, professor of astronomy at the University of Arizona.
 'Comprehending the workings of the human brain,' says Sir Aaron Klug, president of the Royal Society.
 AND 'It will be totally unpredictable,' says Britain's 1996 Nobel prizewinning chemist Sir Harry Kroto. 'If you can predict a discovery, it can't be that important. Major advances should be totally unpredictable.'
 For more predictions join Olival Freire Jr on Saturday.
It is much easier to talk about advances in the field of science in the past than to guess about its future. The case of Lord Kelvin's 1900 statement concerning the two little clouds that still obscured the sky of physics, and that would eventually be resolved into revolutionary theories—special relativity and quantum mechanics—is a well-known example of this. While risky, guesses about the future of science are appealing. Indeed, dramatic change is a recurrent theme in science studies as illustrated by Thomas Kuhn's ideas on shifting paradigms in scientific revolutions as well as by several other authors who elaborated different views on the subject. Informed guesses about the future of science breakthroughs will be the subject of our conversation.
This online talk will be followed by questions and answers and discussion.
This event has a fee of €10,00 a participant, €9.00 for Friends of The Pari Center.