Don't miss our upcoming events:
Entering Bohm's Holoflux
with Lee Nichol
and special guest Leroy Little Bear
Four Sundays in October – 4, 11, 18, 25
10:00 am PST, 7:00 pm CEST
Each Sunday session will be followed by a one-hour Wednesday discussion group
11:00 am PST, 8:00 pm CEST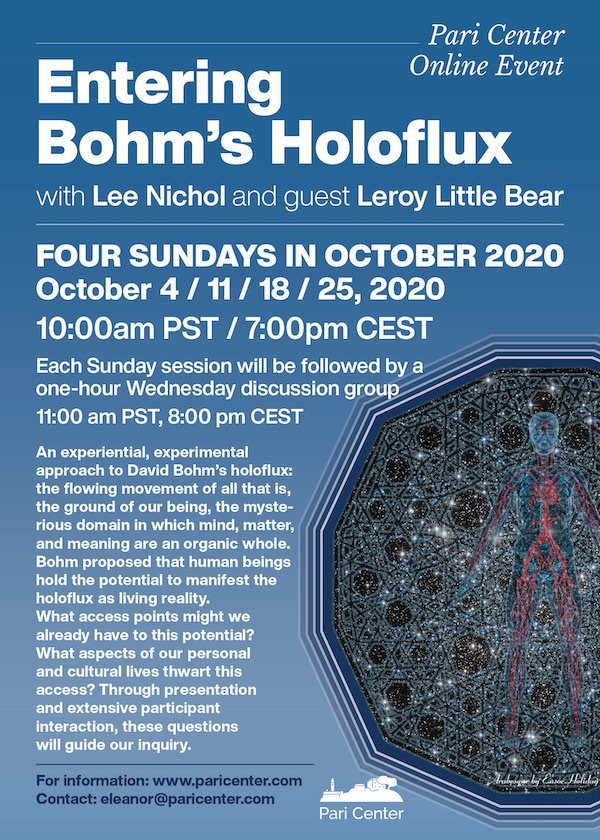 October 4: The Enfolding/Unfolding Human
October 11: Thought as a System and the Pain Body
October 18: Liberating the Explicate Order and the Prospect of Dialogue
October 25: Flux and Transformation
---
Online Pari Community Conversations:
20 years of the Pari Center
Saturday September 19 at 18:00 (CEST) 
September 2020 marks the 20th anniversary of the Pari Center. We intended to celebrate here in Pari and we will, but we also wanted to host a virtual event with our global friends. Join us on Saturday September 19th with special guests for stories about their most memorable moments paying tribute to the work of the Center and David Peat. Fill your glass and we'll drink a toast!
This online event will be followed by discussion.
 This event is free and open to everyone!
If you would like to participate, have any questions or need any help just contact Eleanor Peat: eleanor@paricenter.com