Discover our current events, find out more and sign up
Don't forget: besides our events in Pari, you can use this idyllic space to host your own gathering of minds and hearts. We have experience helping you organize successful conferences and seminars, retreats (yoga, book clubs, poetry, philosophy and more), plus corporate get-togethers such executive retreats, unforgettable teambuilding events, and parties.
To set up your event in Pari, contact us.

Exploring Synchronicity: Jung, Pauli and the I Ching
July 12, 2018 @ 8:00 am

-

July 16, 2018 @ 5:00 pm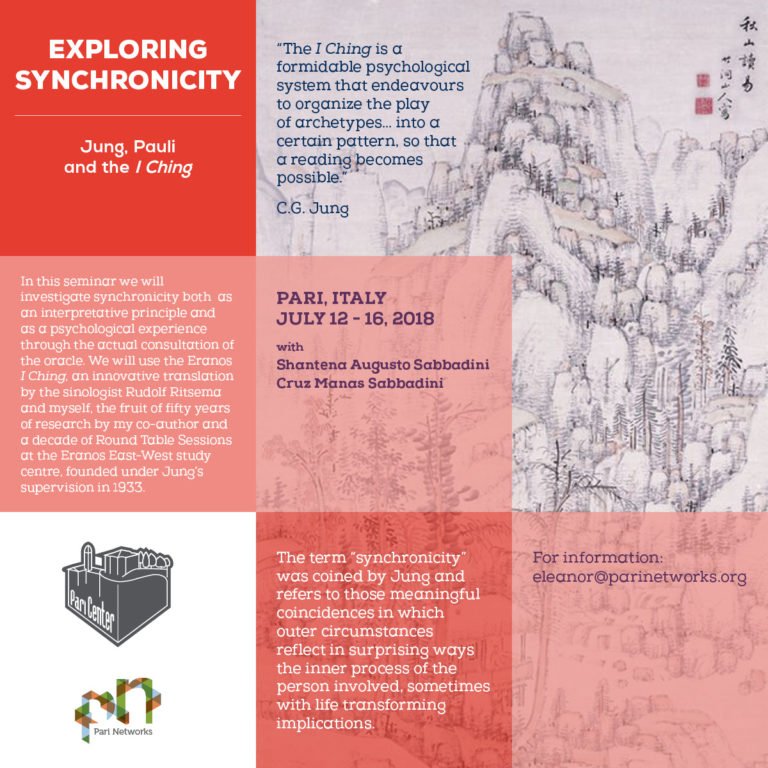 The term "synchronicity" was coined by Jung and refers to those meaningful coincidences in which outer circumstances reflect in surprising ways the inner process of the person involved, sometimes with life transforming implications.
In this seminar we will investigate synchronicity both  as an interpretative principle and as a psychological experience through the actual consultation of the oracle. We will use the Eranos I Ching, an innovative translation by the sinologist Rudolf Ritsema and Shantena Augusto Sabbadini, the fruit of fifty years of research by Ritsema and a decade of Round Table Sessions at the Eranos East-West study centre, which was founded under Jung's supervision in 1933.
Scroll