Flickering Reality: Exploring Ideas in Film and Television
Flickering Reality is a free monthly get-together for the Pari Community to explore films, documentaries and TV series that are thought-provoking, philosophical, and take risks. Join us for presentations followed by discussion. All ideas and suggestions for future get-togethers are welcome.
Sunday March 14, 2021
at 10:00 am PDT  |  1:00 pm EDT  |  6:00 pm CET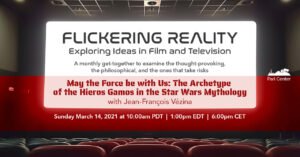 Jean-François Vézina will be looking at the full spectrum of archetypical dynamics in the Star Wars series. The core of the last episode of the series contains a great expression of the archetype of the Hieros Gamos that Jung and Pauil talked about in their correspondences. Facing the dark side of fear, symbolised by the Star Wars' character Palpatine and experienced in our times with Covid-19, we need to be courageous and imaginatives in the reconciliation of our opposites, and Star Wars offers a great path to this collective and personal individuation. Jean-François will divide his presentation into four 20-minute parts leaving plenty of time for community Q&A and discussion.
'May the Force be with me'.  (Trilogy 1-3) Egotic dimension of the Force
'May the Force be with you' (Trilogy 4-6) Heroic dimension of the Force
'May The Force be with us'  (Trilogy 7-9) Hiero Gamic dimension of the Force.
'Baby Yoda, a symbol of the sacred child'
This series is free and open to everyone!
Join our Zoom meeting via the following link:
https://us02web.zoom.us/j/82772844869

Jean-François Vézina is a clinical psychologist in private practice in Québec, an author and a musician. He was the president of the Jungian Society of Quebec for 7 years and has recently created the Cercle Jung de Tequenonday and The Hilbert Hotel, a psycho-philo-poetic experience exploring the multiverse.
He has published several books translated in various languages such as Necessary Chances by Pari Publishing, The Love Adventure and Dancing with Chaos on the Trickster archetype.
Web Site: www.hilbert-hotel.com