Free Pari Community Event

with Christopher Hauke
Saturday July 3
9:00am PDT  | 12:00pm EDT  | 5:00pm BST  |  6:00pm CEST
The Covid pandemic has required us to keep a broader social distance from one another; for psychotherapists this should be less of a problem. With reliable broadband making therapy sessions (and presentations like this one) possible online, why do so many people still find the virtual session falls so far short of the 'real' meeting in person? Maybe our assumption that there is a 'real' version and there is an inferior 'virtual' version is wrong to begin with.
Film narratives, as well as factual 'reality' films, have long been delivering 'reality' to us on screens in their own virtual way. Jungian analyst and author, Christopher Hauke, will discuss the bio-evolutionary ideas around visual perception, and the central role of meaning in both film and the therapy session. In doing so, he will bring us back to the definition of 'virtual' flagged as something in essence or effect. In this way he brings a new perspective to the idea of 'real reality' and 'virtual reality' in our new way of working.
THIS EVENT IS FREE AND OPEN TO EVERYONE!
Join our Zoom meeting via the following link: https://us02web.zoom.us/j/83111513487
For more information: https://paricenter.com/event/the-screen-and-the-soul/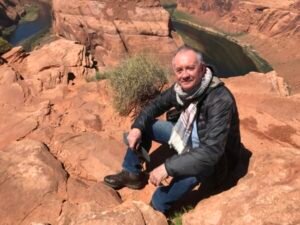 Christopher Hauke is a Jungian analyst in private practice and Senior Lecturer emeritus at Goldsmiths, University of London interested in the applications of depth psychology to a wide range of social and cultural phenomena including film. His books include Jung and the Postmodern: The Interpretation of Realities, (2000); Human Being Human. Culture and the  Soul  (2005) Visible Mind. Movies, Modernity and the Unconscious.(2013). He has co-edited two collections of Jungian film writing: Jung and Film. Post-Jungian Takes on the Moving Image (2001) and Jung and Film II – The Return (2011).
His short films, documentaries One Colour Red and Green Ray and the psychological drama  Again premiered in London venues and at congresses in Barcelona, Zurich and Montreal.
In addition to new film projects he is now researching the limits of rationality, and the place of the irrational in our lives.
---
Summer Series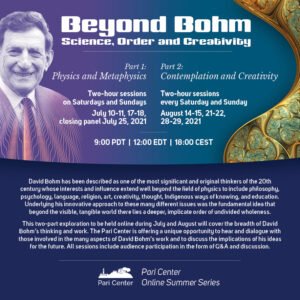 One of the main focuses of the Pari Center is the work of David Bohm. This summer we have gathered together former colleagues, collaborators and others who have been influenced by and are continuing Bohm's work for a two-part programme 'Beyond Bohm.'
What has happened in the almost 30 years since Bohm's death and how do we see his work impacting the future?
11 two-hour online sessions  – July and August
All sessions are live;
recordings will be available for any sessions you are unable to attend.
Parts 1 and 2 can be purchased separately or as a full package.
Register Now: https://paricenter.com/event/beyond-bohm/
---

Emily Adlam, Basil Hiley, Paavo Pylkkänen and Giuseppe Vitiello
July 10–11, 17–18, 25
9:00 PDT | 12:00 EDT | 18:00 CEST
Two-hour sessions on Saturdays and Sundays
David Bohm's Physics and Metaphysics. Bohm has made a fundamental contribution to the still ongoing debate on the interpretation of quantum physics, a contribution largely ignored by the mainstream physics community for decades, but now being rediscovered and taken into consideration both in philosophical debate and in mathematical and experimental developments. This first sequence of Beyond Bohm: Science, Order and Creativity will explore some outer edges of these investigations and includes Basil Hiley, Bohm's collaborator for 30 years, and longtime scholar and promoter of Bohm's ideas, philosopher Paavo Pylkkänen.
For more information: https://paricenter.com/event/beyond-bohm-part-1/2021-07-10/
---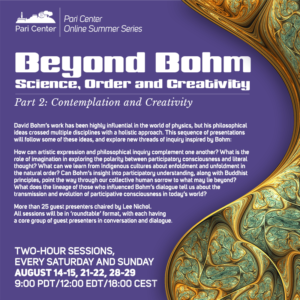 Leroy Little Bear, Beth Macy, Lee Nichol , Hester Reeves , David Schrum , Mark Vernon and over 20 other guests
August 14–29
12:00 EDT | 18:00 CEST
Two-hour sessions every Saturday and Sunday
Contemplation and Creativity examines Bohm's philosophical ideas which crossed multiple disciplines with a holistic approach. This sequence of presentations will follow some of these ideas, and explore new threads of inquiry inspired by Bohm: How can artistic expression and philosophical inquiry complement one another? What is the role of imagination in exploring the polarity between participatory consciousness and literal thought? What can we learn from Indigenous cultures about enfoldment and unfoldment in the natural order? Can Bohm's insight into participatory understanding, along with Buddhist principles, point the way through our collective human sorrow to what may lie beyond? What does the lineage of those who influenced Bohm's dialogue tell us about the transmission and evolution of participative consciousness in today's world?
This exciting six-part series has been arranged in a sequence of Circles—Circles on Dialogue, Indigenous Ways of Knowing, the Arts, Creativity, Imagination and Consciousness—with over 25 presenters who contribute their insights through conversation and dialogue.
For more information: https://paricenter.com/event/beyond-bohm-contemplation-and-creativity/2021-08-14/