We are now part of a community of some 250 people in a village that has been around for at least 800 years. By tradition it was a place of peasant farming, a community in which the land provided everything, and commerce was based on a system of barter. It is a community in which family names go back for centuries. A daily life, which is determined by the heat of the sun and by the seasons. It is a village of festivals and communal dinners. It is a community in which policies are decided as people sit around the square in the evening. It is a good place in which to think and from which to write.    
F. David Peat writing about Pari in 2006
---
It's our 20th Anniversary!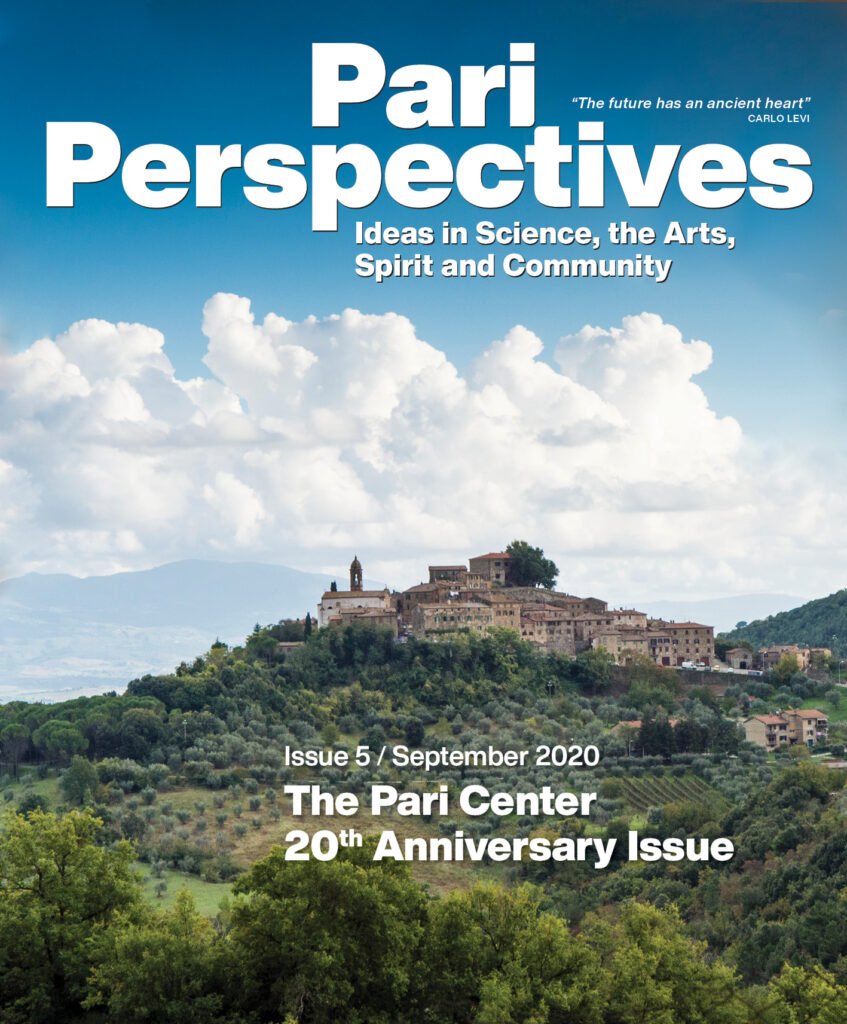 I'm sure that you are all aware that the Pari Center has just celebrated its 20th anniversary, having opened its doors on September 8, 2000 with a conference on the Future of the Academy.
To mark the occasion the September issue of Pari Perspectives is a collection of 40 (20-20) essays and tributes to David Peat, the Center and the village of Pari. We asked 20 colleagues/peers of David and 20 people who participated in Pari Center events over the years to contribute and the result is a wonderful collection of stories, reminiscences and photos. Thank you to all those who have written expressing their appreciation for this issue.
In a 'normal' September we would have held celebrations here in Pari – in the newly renovated palazzo—but alas we had to make do with a Community Call. People shared their memories of time spent in Pari and we all raised a glass at the end! Thank you to all those who took part.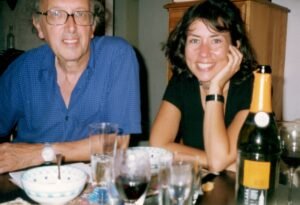 We are offering a free essay from this anniversary issue to give you a taste of our journal. This month we have selected Alison MacLeod's 'Benedictions.' Alison is a novelist and short story writer who has been to Pari a number of times, first as a participant and then as a presenter. Her novels have been longlisted for the Booker prize and nominated for the Governor General of Canada's award. It's well worth reading.
https://paricenter.com/library/issue-5-the-pari-center-20th-anniversary-issue/benedictions/
If you would like to read the full issue you can do so by becoming a Friend of the Pari Center. https://paricenter.com/join-our-community/
---
Entering Bohm's Holoflux
with Lee Nichol
and special guest Leroy Little Bear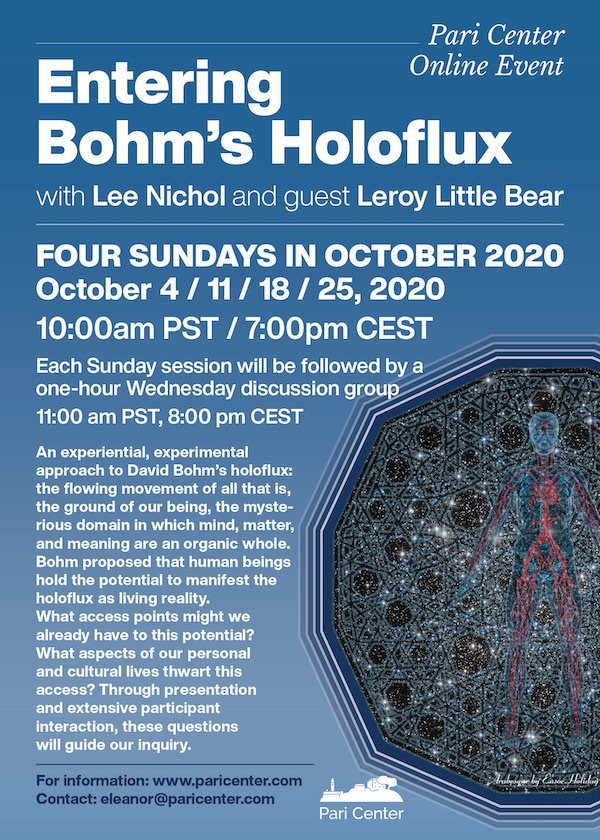 Sunday October 25 begins the final week of Lee Nichol's excellent series 'Entering Bohm's Holoflux.' For this session he has invited a member of the Blackfoot nation, Leroy Little Bear, to join him in discussing the topic of 'Flux and Transformation.' Lee has put an extraordinary amount of work into his beautifully illustrated presentations which are each followed by a very active mid-week discussion group. This truly has been 'an experiential, experimental approach to David Bohm's holoflux.'
Lee says: It is hard to overstate the value of Sutra in augmenting our primary Zoom sessions. The depth and breadth of the Pari community is evident in the many rich postings to date. Often the import of the postings loops back into the Zoom sessions, creating a 'dialogue' between text and video.
The recordings are available for those who missed individual sessions or the whole series.
October 4: The Enfolding/Unfolding Human
October 11: Thought as a System and the Pain Body
October 18: Liberating the Explicate Order and the Prospect of Dialogue
October 25: Flux and Transformation
---
Sunday November 8 at 12:00 EST   /  18:00 CET
The Jungian analyst, James Hillman, wrote, 'There is only one core issue for all psychology. Where is the "me"? Where does the "me" begin? Where does the "me" stop? Where does the "other" begin?' In other words, 'What is I?' When we dream at night, is 'I' dreaming or being dreamed? Is it also 'I' who appears in someone else's dream? In the Japanese language, there are different words to express 'I' according to relationship and occasion. So, what is 'I'?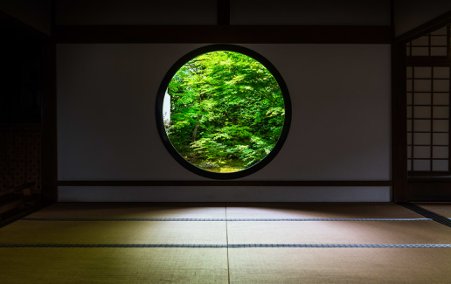 Yuriko Sato is a Japanese Jungian analyst living in Switzerland. On Sunday November 11 at 6 pm CET, she will open our monthly Community Call with a short presentation on the fascinating topic of 'What is I'? This will be followed by breakaway discussion groups with the community coming back together for comments and Q&A.
This online event will be followed by discussion.
 This event is free and open to everyone!
If you would like to participate, have any questions or need any help just contact Eleanor Peat: eleanor@paricenter.com
For more information: https://paricenter.com/event/online-pari-community-conversations-what-is-i-with-yuriko-sato/
---
Don't miss the December issue of Pari Perspectives—it's a 'Bohm special.'  Each essay will be devoted to some aspect of David Bohm's work: physics, philosophy, psychology, dialogue, consciousness, the arts, and more.
---
FRIEND OF THE PARI CENTER
Membership Campaign 2020
Help us Reach our Goal of 300 Members allowing us to carry on the work of the Pari Center!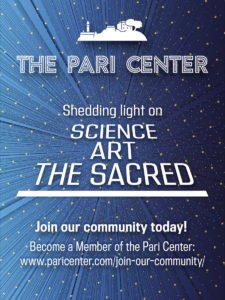 None of us can predict what the next few months will bring. Our planned events for this year are now uncertain. We are fortunate to have few overheads at the Center but we still need an income to cover administration costs, maintain our website, publish Pari Perspectives, and so forth. We ask you to please consider becoming a Friend of the Pari Center. By so doing you will be helping the Center to extend the work of David Peat, to continue with its established events and projects, and to start new ventures.
We need your Help and Support!!
Your membership fee will entitle you to:
a digital copy of the quarterly Pari Perspectives
a 10% discount on all events at the Pari Center on any events you may choose to attend at the Pari Center within the year
access to a Members Area of our website which will include blogs, discussion groups, and a library of past issues of Pari Perspective
Your Friend of the Pari Center membership is valid for one year from the date of purchase.
Join our Community now and become a Friend of the Pari Center!