In the last analysis the tension between science and religion can be a healthy one, for it encourages a debate in which both sides are invited to question their positions. Yet we should never forget that both have their resting place in the sacred, that womb in which both the child-scientist and the mystic are gestated. In 2001, the British Humanist Association organised a conference in London on the theme, 'Is Nothing Sacred?' Its speakers were atheists and agnostics who explored a common ground in that, while they were quite happy to reject or even condemn religions, they could not avoid the deep feelings they experienced in the face of nature, life or art—feelings of that which is sacred and inviolate. To read their papers is to see honest people grappling with a deep paradox, that while there is so much they were inclined to reject or ignore in the field of religion, within their own lives they could not escape the fact of the sacred. When human beings are truly honest with themselves, then they must pursue the truth no matter where it takes them. If religion and science are to be genuine, then they too must follow that same path.
David Peat
---
ANNOUNCING THE PARI CENTER'S JUNE EVENT
---
What Is Consciousness?
with Richard Baker Roshi, Valerie Hardcastle, Basil Hiley, Bernardo Kastrup, Gary Lachman, Iain McGilchrist, Roderick Main, Paavo Pylkkänen and Beverley Zabriskie
June 5 – 27, 2021
9:00 PDT | 12:00 EDT | 17:00 BST  |  18:00 CEST
8 two-hour online sessions, one every Saturday and Sunday

Our June gathering of The Pari Center community will focus this year on an exploration of Consciousness.
Consciousness is the primary and most immediate experience we all have. Before knowing our name or who we are, before being able to recognize any specific experience we are undergoing, the immediate realization that 'I am' is always there. Yet this fundamental first-person experience sits uneasily within the context of our scientific third-person description of the world. What has been dubbed 'the hard problem of consciousness' is much deeper than mere neurophysiology. It involves the sense we have of ourselves and our destiny, the issue of life after death and the distinction between animate and inanimate. What are the boundaries (if any) of consciousness? Is consciousness everywhere (as mystical traditions teach) or nowhere (as materialists claim)?
Join us for our big June event and meet a terrific line-up of experts and scholars in the field of Consciousness.
For more information: https://paricenter.com/event/what-is-consciousness/
---
Flickering Reality Monthly Film Get-Together
Join us for the next free session in this series
Sunday May 2, 2021
9:00am PDT, 12:00pm EDT, 5:00pm BST, 6:00pm CEST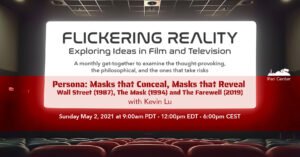 Dr Lu will use three films as the springboard to exploring Jung's notion of the persona:  Wall Street (1987), The Mask (1994) and The Farewell (2019).  While each film highlights the potentially pathological relationship one can have with one's personas, they also convey the important role played by this archetypal imperative in personality development. As with all archetypes, the persona is bipolar in nature and entering into a more integral relationship with its various qualities and characteristics is central to the project of individuation.
Kevin Lu PhD, Senior Lecturer and Director of the MA Jungian and Post-Jungian Studies in the Department of Psychosocial and Psychoanalytic Studies, University of Essex
This Event is Free and Open to Everyone!
---
with Gavin Andersson, Rutendo Ngara and Godelieve Spaas
and special guests Ela Manga and Keith Mparana
4-part series: Saturday May 8, 15, 22, 29
9:00am PDT  |  12:00pm EDT  |  5:00pm BST  |  6:00pm CEST  |   6:00pm SAS
We find ourselves in a world in crisis. We are at a time of reckoning, a time of turning. We are both actors and spectators in the time foretold by ancient prophecy. At this watershed moment humanity is asked to re-think, re-imagine, re-define, re-act, re-store, re-generate and re-new.
Can the current Western economic thinking solve everything? What lessons can we learn from Ancient Wisdom? This series of dialogues aims to bring to light concepts from African Indigenous Knowledge Systems as catalysts for reimagining how to approach issues in our current reality in an interrelated and unbounded way.
Each session addresses one principle:
Ubuntu (Southern Africa)
Ubuntu is the principle of interrelatedness, interconnectedness and interdependence.  It asserts that: 'A person is a person through other persons. I am because you are. You are because we are. We are because it is. It is because All that is is.' This is the root of identity.
Sankofa (West Africa)
Sankofa tells us to 'go back and fetch it.' It is a concept of 'historical recovery,' moving us to reflect on and reclaim Indigenous cultural ideas and principles in order to advance towards a co-created future.
Kemetic Tree of Life (Ancient Egypt)
The Tree of Life tracks the process of creation from the Void to All That Is. It is a cosmological principle describing the ancient wisdom about the nature of the cosmos: from the unmanifest to the manifest, the infinite to finite.
Ancestors (throughout the continent)
African spirituality holds that there is no separation between the living, those who have walked before and those who are to come. Death is a complementary of life and the beginning of the communication between the visible and the invisible worlds.
This programme features meditation, drawing, music, stories, dialogues and experiences and is limited to 20 active participants.
For more information: https://paricenter.com/event/ancient-wisdom-transforming-tomorrow/
---
With Dr. Baba Buntu (PhD)May: The Physical
Wednesday May 12, 19 and 26 – 1 hour sessions
10:00 am PDT  |  1:00 pm EDT  |  6:00 pm BST  |  7:00 pm CEST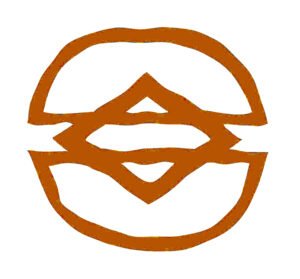 Rooted in African worldviews, each session will explore aspects of history that has had a devastating impact on human development. Literary references will be used as navigation points in order to interrogate complex problems and stimulate philosophical introspection. More than providing the answers, the seminar-series will seek to disrupt common thinking and encourage a transdisciplinary approach to transformation.
The seminar-series will be scheduled along 12 key-concepts, structured through four dimensions: Physical, Cognitive, Social, and Metaphysical. Three one-hour essions will be held in the months of May, June, July and August.
May: Physical
May 12 – Skin: How did appearance become punishable?
May 19 – Presence: What does it mean to exist in this world?
May 26 – Representation: Who can represent who, and why?
For more information: https://paricenter.com/event/epistemic-justice/
---
Saturday May 22 and Sunday May 23
9:00am PDT  |  12:00pm EDT  |  5:00pm BST  |  6:00pm CEST
2-part program, 2 hour sessions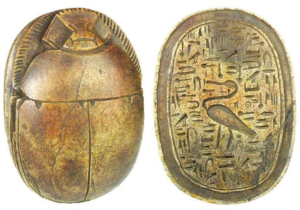 Join us for online presentations and experiential workshops to explore the notion of Synchronicity and the Soul of the World with Mathew Mather PhD, course director of the Certificate in Jungian Psychology with Art Therapy and the postgraduate Certificate in Art, Psyche and the Creative Imagination at Limerick School of Art and Design. Mathew considers Jung's now iconic green-gold scarab beetle synchronicity in relation to the notion of the Anima Mundi (World Soul). This is followed by an examination of accounts of synchronicity that pose compelling questions that challenge our normative scientific Western worldview. Synchronicity sceptics especially welcome. Both days include interactive workshops.
---
Pari Perspectives
The Common Good
March 2021
The March issue of Pari Perspectives is now available to all our members free of charge. The theme of this issue is 'The Common Good.' There is no doubt that the Covid-19 virus has broadcast a message to us loud and clear 'We are all in this together.' The question now is 'How do we proceed?' As far back as 1987, Thomas Berry was telling us 'It's all a question of story. We are in trouble just now because we do not have a good story. We are in-between stories. The Old Story—the account of how the world came to be and how we fit into it—is not functioning properly, and we have not learned the New Story.'
Berry goes on to say, 'The only true and effective "operator's manual for spaceship earth" is not a book that any human will ever write; it is hundreds of thousands of local cultures.'
In 'The Common Good' read about the communities that are trying to respond appropriately to the complex situation we find ourselves in—the pandemic, climate change, poverty and inequality, conflict, political polarization—and the people who trying to write the New Stories.
Join our Community now and become a Friend of the Pari Center!
---
FRIEND OF THE PARI CENTER
Membership Campaign 2021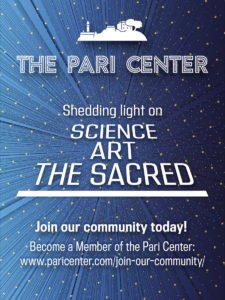 None of us can predict what the next few months will bring.Our planned events for this year are now uncertain. We are fortunate to have few overheads at the Center but we still need an income to cover administration costs, maintain our website, publish Pari Perspectives, and so forth. We ask you to please consider becoming a Friend of the Pari Center. By so doing you will be helping the Center to extend the work of David Peat, to continue with its established events and projects, and to start new ventures.
We need your Help and Support!!
Your membership fee will entitle you to:
a digital copy of the quarterly Pari Perspectives
a 10% discount on all events at the Pari Center on any events you may choose to attend at the Pari Center within the year
access to a Members Area of our website which will include blogs, discussion groups, and a library of past issues of Pari Perspective
Your Friend of the Pari Center membership is valid for one year from the date of purchase.
Join our Community now and become a Friend of the Pari Center!