Bohm felt that science didn't have to be separate from everyday life, something abstract or having only to do with mechanisms. Rather, he felt that the universe itself was, in a sense, a mirror of our basic structure as human beings and of our relationship to the transcendent. That was the key that was present in all his thinking. So that when he began to develop his theory of the implicate order, there was a sense that this wasn't just about the structure of matter but also about the structure of consciousness, because everything mirrors itself. Even his earliest work, on plasmas, came about not so much through thinking about atoms and electrons—which of course he did—but about the basic dilemma of the individual and the collective: Can an individual simultaneously have freedom in a society and contribute to that society? He saw that here too, the basic dilemmas of human beings regarding free will and obligations to society are somehow mirrored in the very structure of the universe. There was a vision he had in which he saw the universe as a collection of silver balls, each ball reflecting every other ball, itself included—a sort of infinite reflectivity of the universe in which each part is contained in everything else.
David Peat in an interview with S.N. Alev,
'Look For Truth No Matter Where It Takes You.' What Is Enlightenment? Spring/ Summer, 1997.
---
NEW THIS MONTH AT THE PARI CENTER
---
Summer Series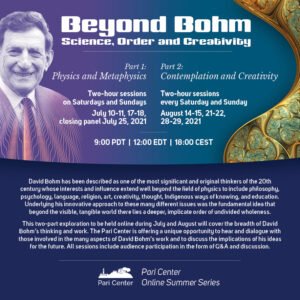 One of the main focuses of the Pari Center is the work of David Bohm. This summer we have gathered together former colleagues, collaborators and others who have been influenced by and are continuing Bohm's work for a two-part programme 'Beyond Bohm.'
What has happened in the almost 30 years since Bohm's death and how do we see his work impacting the future?
11 two-hour online sessions  – July and August
All sessions are live;
recordings will be available for any sessions you are unable to attend.
Parts 1 and 2 can be purchased separately or as a full package.
Register Now: https://paricenter.com/event/beyond-bohm/
---

Emily Adlam, Basil Hiley, Paavo Pylkkänen and Giuseppe Vitiello
July 10–11, 17–18, 25
9:00 PDT | 12:00 EDT | 18:00 CEST
Two-hour sessions on Saturdays and Sundays
David Bohm's Physics and Metaphysics. Bohm has made a fundamental contribution to the still ongoing debate on the interpretation of quantum physics, a contribution largely ignored by the mainstream physics community for decades, but now being rediscovered and taken into consideration both in philosophical debate and in mathematical and experimental developments. This first sequence of Beyond Bohm: Science, Order and Creativity will explore some outer edges of these investigations and includes Basil Hiley, Bohm's collaborator for 30 years, and longtime scholar and promoter of Bohm's ideas, philosopher Paavo Pylkkänen.
For more information: https://paricenter.com/event/beyond-bohm-part-1/2021-07-10/
---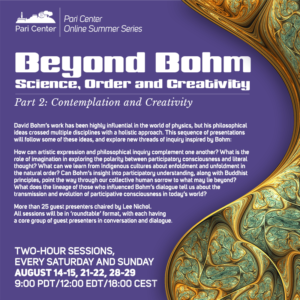 Leroy Little Bear, Beth Macy, Lee Nichol , Hester Reeves , David Schrum , Mark Vernon and over 20 other guests
August 14–29
12:00 EDT | 18:00 CEST
Two-hour sessions every Saturday and Sunday
Contemplation and Creativity examines Bohm's philosophical ideas which crossed multiple disciplines with a holistic approach. This sequence of presentations will follow some of these ideas, and explore new threads of inquiry inspired by Bohm: How can artistic expression and philosophical inquiry complement one another? What is the role of imagination in exploring the polarity between participatory consciousness and literal thought? What can we learn from Indigenous cultures about enfoldment and unfoldment in the natural order? Can Bohm's insight into participatory understanding, along with Buddhist principles, point the way through our collective human sorrow to what may lie beyond? What does the lineage of those who influenced Bohm's dialogue tell us about the transmission and evolution of participative consciousness in today's world?
This exciting six-part series has been arranged in a sequence of Circles—Circles on Dialogue, Indigenous Ways of Knowing, the Arts, Creativity, Imagination and Consciousness—with over 25 presenters who contribute their insights through conversation and dialogue.
For more information: https://paricenter.com/event/beyond-bohm-contemplation-and-creativity/2021-08-14/
---
FREE ESSAY
---

Each month we take an essay from the latest issue of our quarterly journal Pari Perspectives and offer it freely to our community. The theme of our June issue is 'Synchronicity' and we are pleased to provide you with a link to Leslie Allan Combs 'Synchronicity and Hermes the Trickster.' Allan Combs is Professor of Consciousness Studies at the California Institute for Integral Studies. He is author or coauthor of over 200 publications on consciousness, including Synchronicity: Science, Myth, and the Trickster.
His essay begins: 'Themes carried by archetypes are universal. Moreover, they are neither wholly internal nor wholly objective, but are woven into the deepest fabric of the world. This notion is supported by Jung's idea that archetypes have their origins in the unus mundus, or 'one world,' which is at the foundation of the psyche as well as the objective physical world. David Bohm's concept of a holographic universe offers similar possibilities.'
Read Full Article: https://paricenter.com/library/pari-perspectives-issue-8-synchronicity/synchronicity-and-hermes-the-trickster/
---
FREE PARI COMMUNITY EVENT
---

with Christopher Hauke
Saturday July 3
9:00am PDT  | 12:00pm EDT  | 5:00pm BST  |  6:00pm CEST
The Covid pandemic has required us to keep a broader social distance from one another; for psychotherapists this should be less of a problem. With reliable broadband making therapy sessions (and presentations like this one) possible online, why do so many people still find the virtual session falls so far short of the 'real' meeting in person? Maybe our assumption that there is a 'real' version and there is an inferior 'virtual' version is wrong to begin with.
Film narratives, as well as factual 'reality' films, have long been delivering 'reality' to us on screens in their own virtual way. Jungian analyst and author, Christopher Hauke, will discuss the bio-evolutionary ideas around visual perception, and the central role of meaning in both film and the therapy session. In doing so, he will bring us back to the definition of 'virtual' flagged as something in essence or effect. In this way he brings a new perspective to the idea of 'real reality' and 'virtual reality' in our new way of working.
THIS EVENT IS FREE AND OPEN TO EVERYONE!
Join our Zoom meeting via the following link: https://us02web.zoom.us/j/83111513487
For more information: https://paricenter.com/event/the-screen-and-the-soul/
---
ABSURDITY OF CERTAINTY
---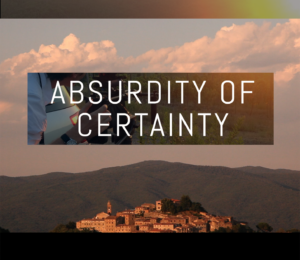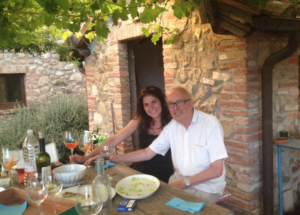 Next month we welcome film director Jena Axelrod who will be joined by Cinematographer and Editor Tanya Glebova to capture the final scenes needed to complete the labour of love that is Absurdity of Certainty. Interviews with our own Maureen Doolan, Eleanor Peat, and the people of Pari should be most interesting!
Absurdity of Certainty is a surreal, spiritual, science documentary that traces the rise and fall of the deterministic universe featuring the late great Dr. F. David Peat. https://absurdityofcertainty.com/
Sign up here to get the release dates:
AOC Newsletter https://mailchi.mp/f255e847a952/absurditynewsletter
---
BECOME A FRIEND OF THE PARI CENTER
---
Membership Campaign 2021
HELP US CARRY ON THE WORK OF THE PARI CENTER!
We ask you to please consider becoming a Friend of the Pari Center. By so doing you will be helping the Center to extend the work of David Peat, to continue with its established events and projects, and to start new ventures.We need your help and support!
---
The Pari Center was conceived as a haven of peace and gentle action in a world increasingly gripped by crisis and turmoil. It is a place dedicated to the idea of the wholeness of knowledge; the arts, science, ethical values, community and the sacred, all coming together within the ambience of a medieval village.
This year because of the global emergency we are unable to offer our annual seminars and events. Nor will we be able to re-activate our residential programme for people from the many disciplines who wish to work together or independently in a creative environment. All our activities are on hold until next year.
The Pari Center, a not-for-profit organization, could not exist without the generosity of our supporters, sponsors and friends. We are now asking if you would donate even a small amount that will help support us financially and enable us to continue our work through these difficult times.
We thank you sincerely.
The Pari Center Team