Don't Miss
Upcoming Free Community Events
---
Flickering Reality Monthly Film Get-Together
Join us for the next free session in this series
Sunday May 2, 2021
9:00am PDT, 12:00pm EDT, 5:00pm BST, 6:00pm CEST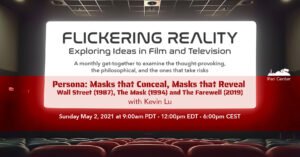 Dr Lu will use three films as the springboard to exploring Jung's notion of the persona:  Wall Street (1987), The Mask (1994) and The Farewell (2019).  While each film highlights the potentially pathological relationship one can have with one's personas, they also convey the important role played by this archetypal imperative in personality development. As with all archetypes, the persona is bipolar in nature and entering into a more integral relationship with its various qualities and characteristics is central to the project of individuation.
Kevin Lu PhD, Senior Lecturer and Director of the MA Jungian and Post-Jungian Studies in the Department of Psychosocial and Psychoanalytic Studies, University of Essex
This Event is Free and Open to Everyone!
---
Online Free Pari Community Event
Hope And Delusion: Critical Storytelling For Difficult Times
with Robert Norris
Sunday May 16 
9:00am PDT  | 12:00pm EDT  | 5:00pm BST  |  6:00pm CEST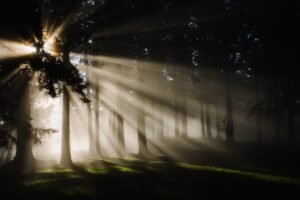 Robert Norris will open our May Community Call with the presentation 'Hope and Delusion: Critical Storytelling for Difficult Times.' When we realise just how much hangs on our attitudes towards the various forms of crisis we are exposed to, we may come to see what our work really is. Hope has a curious story to tell. It reminds us of the wealth we carry within us, but also of how easily we are persuaded to give it all up. This talk attempts to string together disparate stories relating to, but not necessarily about, hope, and aims specifically to raise more questions than it answers. Accompanying the talk there will be breakout and plenary sessions in which participants will be able to articulate their thoughts and responses.
Robert is an independent researcher who teaches English as a foreign language and has wide-ranging interests and experience. He is a regular and valuable contributor in our webinar discussion sessions.
THIS EVENT IS FREE AND OPEN TO EVERYONE!
Join our Zoom session via the following link: https://us02web.zoom.us/j/84842167052
For more information: https://paricenter.com/event/hope-and-delusion/
---
Poetry and Synchronicity
For those who attended the 'Synchronicity, Mind and Matter' sessions in Feb/March you will recall that each session began with award-winning poet, Richard Berengarten, reading a poem from two of his collections Notness and Changing. 
Roderick Main introduces the readings and outlines the concept of synchronicity in relation to the poems. Roderick is a professor in the Department of Psychosocial and Psychoanalytic Studies and Director of the Centre for Myth Studies, University of Essex.
These readings have now been collected and we are pleased to offer them freely at ……