Discover our current events, find out more and sign up
Don't forget: besides our events in Pari, you can use this idyllic space to host your own gathering of minds and hearts. We have experience helping you organize successful conferences and seminars, retreats (yoga, book clubs, poetry, philosophy and more), plus corporate get-togethers such executive retreats, unforgettable teambuilding events, and parties.
To set up your event in Pari, contact us.

Science, Art and the Sacred: The Quest for Wholeness
August 29, 2019

-

September 4, 2019

Free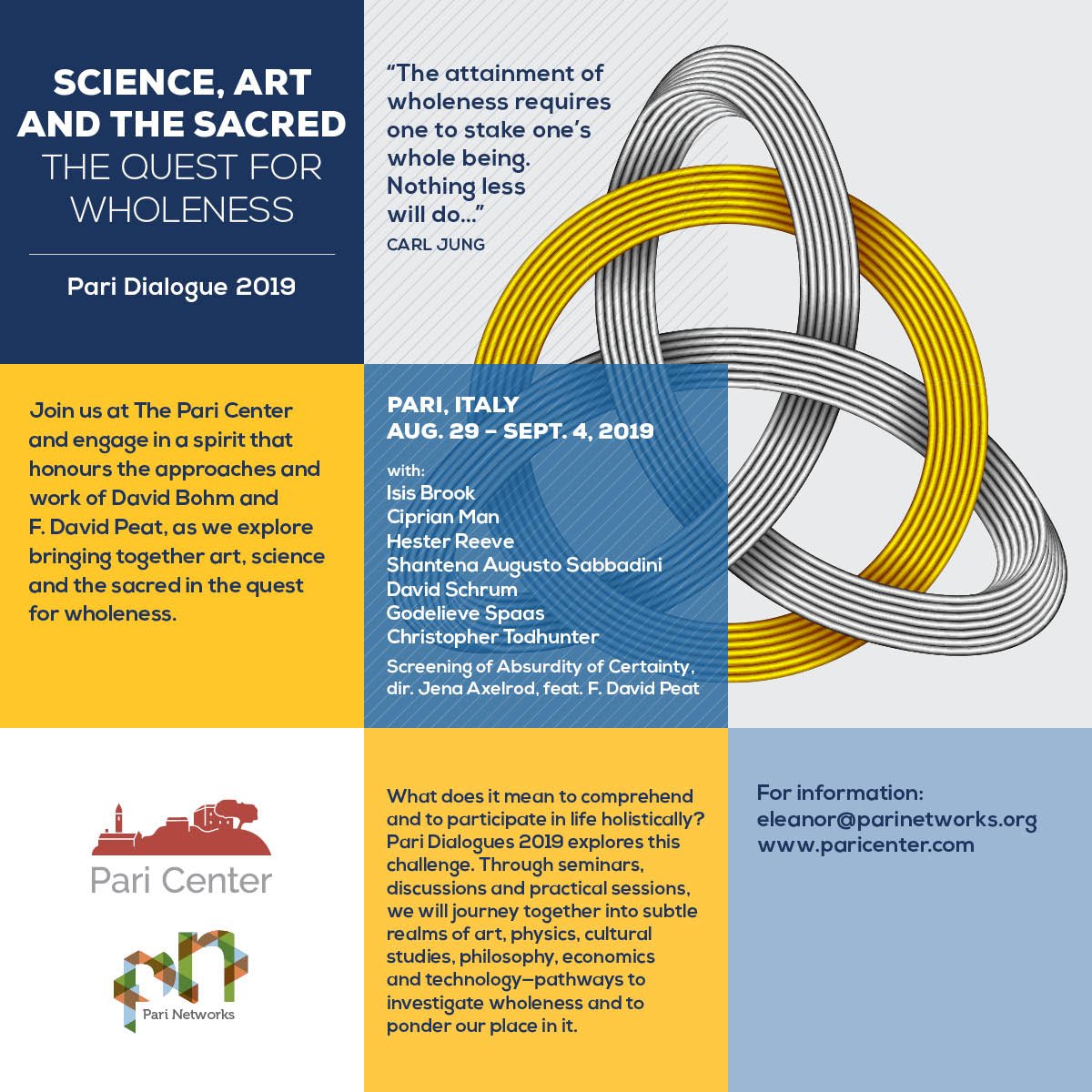 The Quest for Wholeness
Pari Dialogues 2019
What does it mean to comprehend and to participate in life holistically? 
Pari Dialogues 2019 explores this challenge. Through seminars, discussions and practical sessions, we will journey together into subtle realms of art, physics, cultural studies, philosophy, economics and technology—pathways to investigate wholeness and to ponder our place in it. 
Join us at The Pari Center and engage in a spirit that honours the approaches and work of David Bohm and F. David Peat, as we explore bringing together art, science and the sacred in the quest for 
wholeness.
We are delighted to announce that Dr Basil Hiley,
long-term colleague of David Bohm, will be joining us.
"Absurdity of Certainty"
Jena Axelrod
Goethean Science an Approach for the Future
Isis Brook
Wholeness and the Implicate Order Revisited
Basil Hiley
Technology and Shifting Worldviews: How to Overcome Humanity's Current and Future Challenges
Ciprian Man
Artomovement and the Future
Hester Reeve
Science, Abstraction and Wholeness
Shantena Augusto Sabbadini
Wholeness, the Implicate Order, and the Future of Humanity: An Exploration into Subtle Mind
David Schrum
Saltwater Living: Worldviews Towards Sustainable Economy
Godelieve Spaas
Wholeness and the Theory of Centres: The Art of Building
Christopher Todhunter
For additional information, you can check the PDF.
Scroll