Past actions have tended to be fragmentary, strong, reactive, and imposed within limited domains which lead to unpredictable results. When applied to sensitive systems they may overwhelm the system's inherent dynamics; when applied to rigid systems they may have little effect.
Gentle action is the intelligent, co-ordinated application of very small effects that apply to the system as a whole. Gentle action is non-mechanical and non-local. It arises out of the very essence of the system itself. It is the action that proceeds from a watchful suspension, rather than an attempt at domination and control. 
F. David Peat
---
FEATURED NEWS
Conversations with Friends of the Pari Center: Jena Axelrod
Our second conversation with a Friend of the Pari Center features Jena Axelrod interviewed by James Peat Barbieri.
Jena is a long-term visitor and friend of the Pari Center. She attended the first course, New Science/New Paradigms, given by David Peat in May 2001. Since then she has been a regular visitor and is now a member of the Pari Center Board. In 2014 Jena brought her production team from New York to do extensive interviews with David Peat on the topic of certainty and uncertainty. These became the basis of her film The Absurdity of Certainty. 
---
PARI PERSPECTIVES 3
Our Changing World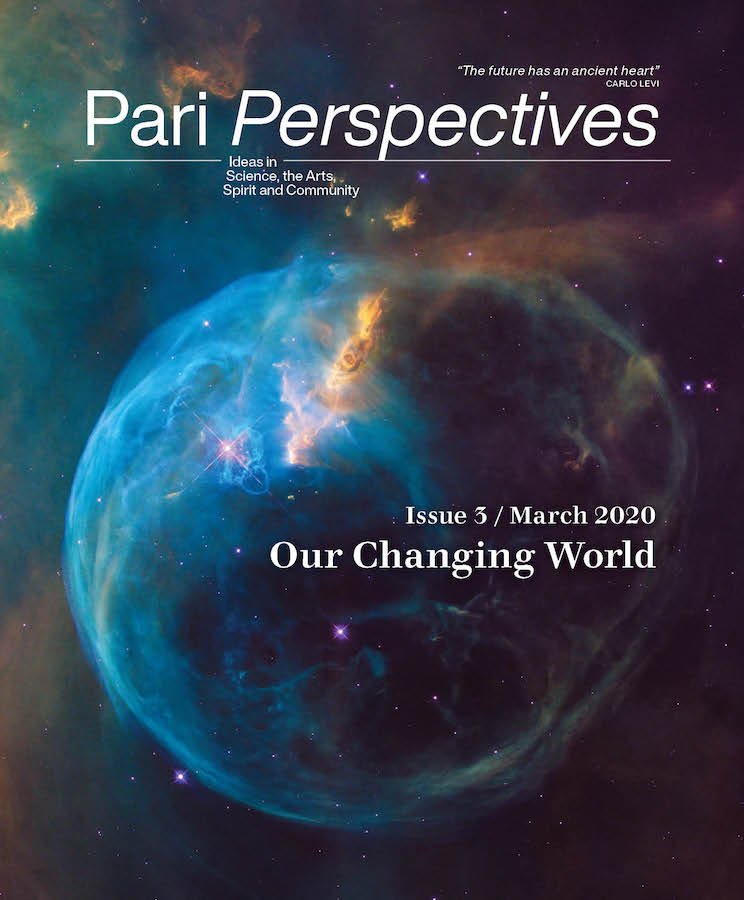 Pari Perspective: Ideas in Science, the Arts, Spirit and Community.
In this issue we explore 'Our Changing World,' and as bleak, dangerous and disintegrating as we may experience it so many of our writers have expressed hope in the way Václav Havel spoke of hope. Hope as the transcendent virtue. Hope as the opposite of despair. Hope is everything to do with the human spirit.
Each month we will be selecting an essay from our current issue to download for free. This month our free essay from Pari Perspectives is:
linking his ideas with Jena's film. Click here to read this article "From Certainty to Uncertainty".
The journal is available to everyone who has become a Friend of the Pari Center: www.paricenter.com/membership
---
EVENTS 2020
Online Events
This year, for the first time in our 20-year history, none of us may be able to meet in person.  Yet the need for community, for human interaction, to check in with and support others in a similar situation is very strongly felt. Two weeks ago, we held our first Zoom dialogue on the topic of 'Certainty and Uncertainty.' It was an opportunity for the Pari Center community to come together to discuss an important subject in these troubling times. We were a group of 56 participants, re-connecting many old friends and welcoming a number of new faces. The feedback we received indicated that the gathering was a great success, one that people would like to see repeated. 
As a result we have decided to launch a monthly Online Pari Community Conversation which will feature a few opening words on a pre-announced topic followed by small group discussions. We will then come together to share some of the issues that emerged in the breakaway groups and end with a summing-up. These will be free and open to anyone. See below for details of the next Zoom meeting. 
A second venture is the monthly Pari Dialogue series on Zoom. These will feature one or more experts who will give a presentation on a pre-announced topic followed by a Q & A session and small group dialogue.  There will be a charge of €15 per participant. For details of the first online Pari Dialogue see below.
---
Online Pari Community Conversations: Gentle Action
with Shantena Sabbadini, Godelieve Spaas and Donna Kennedy-Glans
Saturday April 18, 2020 at 16:00 – 17:30 Central European Standard Time (GMT+2)
What our planet requires are not violent revolutions, or vast government programs imposed from above but a new action that is sensitive and highly intelligent. This action must grow out of our sense of harmony and relationship to nature and each other. It has its source in very gentle but coordinated activity that sweeps inwards and outwards so that the whole system is able to produce it own healing. Each of us is empowered to face the problems that challenge the planet and, by developing a greater sensitivity and a more meaningful relationship to the whole of life, this ability to heal ourselves and our planet will echo around the world just like those tiny ripples in a lake that grow into a giant wave. If there is to be hope for the future then it must begin with the creativity and sensitivity of each one of us.
F. David Peat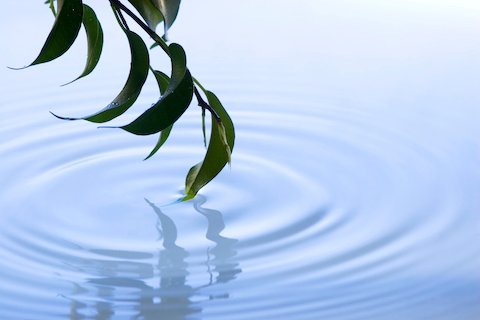 We invite you to share your personal stories and reflections in an online Pari Dialogue about Gentle Action, this event is open to everyone.
Join our zoom meeting via the following link: https://us04web.zoom.us/j/917407312
If you would like to participate or have any questions please contact Eleanor Peat eleanor@paricenter.com
Suggested Reading
Gentle Action for a Harmonious World by F. David Peat
Preserving Dignity in Uncertain Times by Donna Kennedy-Glans
---
Pari Dialogues: What Is Reality Really Like?
with Shantena Sabbadini
Saturday May 9, 2020
 

at 16:00 – 17:30 Central European Standard Time (GMT+2)
We ordinarily assume that we know what is real. I assume the computer I am typing these words on is a real solid object here in front of me, set on a real wooden table, which has been with me for many years. They both seem real enough.
And yet, are they? Physics gives me quite a different picture: these apparently solid objects are actually the interplay of infinitely extended fields, and my experience of them is actually the flickering of neuron connections in my brain. But we don't see things that way. Fortunately, because it would be a very confusing world if we did.
What then determines what we perceive as real? Is there an ultimate reality? In this webinar we shall play with such radical questions.
This presentation will be followed by Q & A and discussion.
This event has a fee of €15,00 per participant.
If you have any questions or need any help please contact Eleanor Peat eleanor@paricenter.com
---
Pari Center Events
Understandably we have had to cancel or postpone most of our May and June events.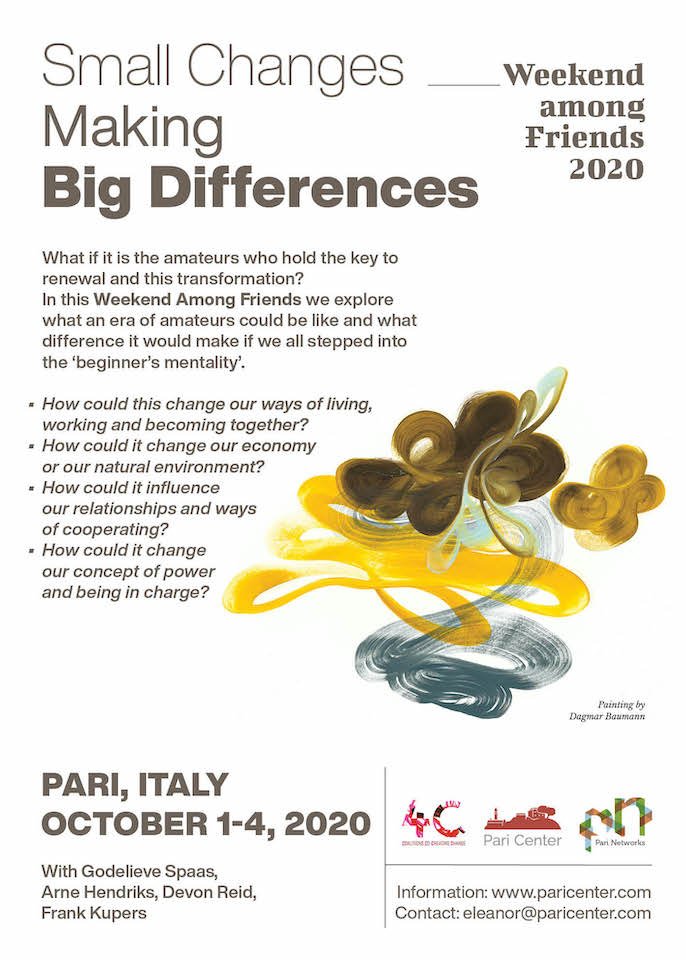 ---
FRIEND OF THE PARI CENTER
None of us can predict what the next few months will bring. Our planned events for this year are now uncertain. We are fortunate to have few overheads at the Center but we still need an income to cover administration costs, maintain our website, publish Pari Perspectives, and so forth. We ask you to please consider becoming a Friend of the Pari Center. By so doing you will be helping the Center to extend the work of David Peat, to continue with its established events and projects, and to start new ventures.
Your membership fee will entitle you to:
a digital copy of the quarterly Pari Perspectives
a 10% discount on all events at the Pari Center on any events you may choose to attend at the Pari Center within the year
access to a Members Area of our website which will include blogs, discussion groups, and a library of past issues of Pari Perspective
Your Friend of the Pari Center membership is valid for one year from the date of purchase.
Join our Community now and become a Friend of the Pari Center!